meat pies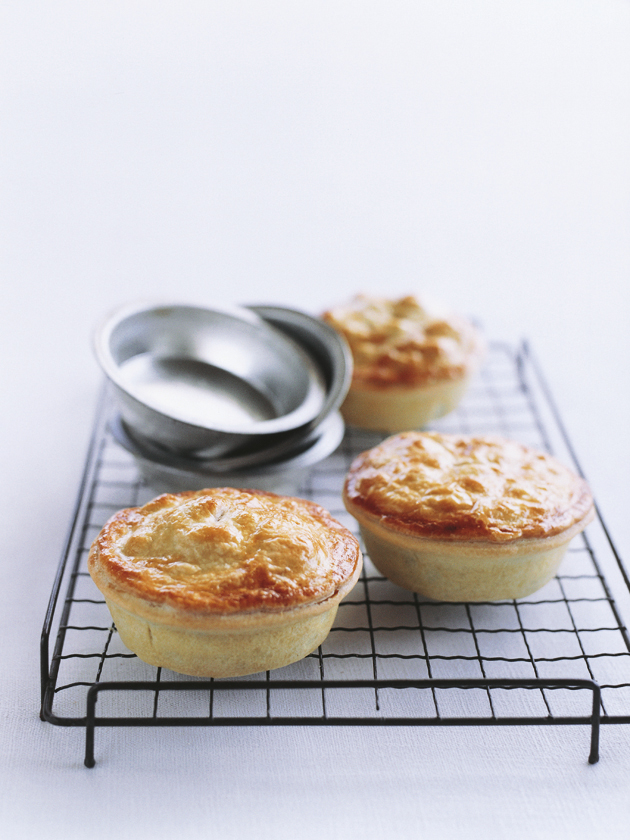 350g store-bought shortcrust pastry

375g store-bought puff pastry

filling
1 tablespoon olive oil

2 onions, chopped

1.5kg round or chuck steak, cut into 1.5cm cubes

1 tablespoon tomato paste

4½ cups beef stock

1 cup (250ml) red wine

1 tablespoon Worcestershire sauce

2 tablespoons cornflour (cornstarch)

¼ cup (60ml) water

sea salt and cracked black pepper

1 egg, lightly beaten

Preheat oven to 180°C (350ºF). To make the filling, heat the oil in a saucepan over high heat. Add the onion and cook for 2 minutes or until soft. Add the meat and cook for 5 minutes or until sealed. Add the tomato paste, stock, wine and Worcestershire sauce to the pan and simmer, uncovered, for 1 hour or until the meat is tender. Blend the cornflour and water to a smooth paste. Add to the beef mixture and stir for 4 minutes or until the mixture has thickened and returned to a simmer. Add the salt and pepper, then set aside to cool.

Roll out the shortcrust pastry on a lightly floured surface to 3 mm thick. Cut out 6 pie bases (you may need to re-roll the scraps) to line 9cm-base x 11cm-top pie tins. Spoon in the filling. Roll out the puff pastry until 4mm thick and cut out six lids. Place on top, trim and press the edges of the pastry together. Brush the tops with the egg and make a slit. Bake for 30 minutes or until golden. Makes 6 pies.

There are no comments for this entry yet.