banana bread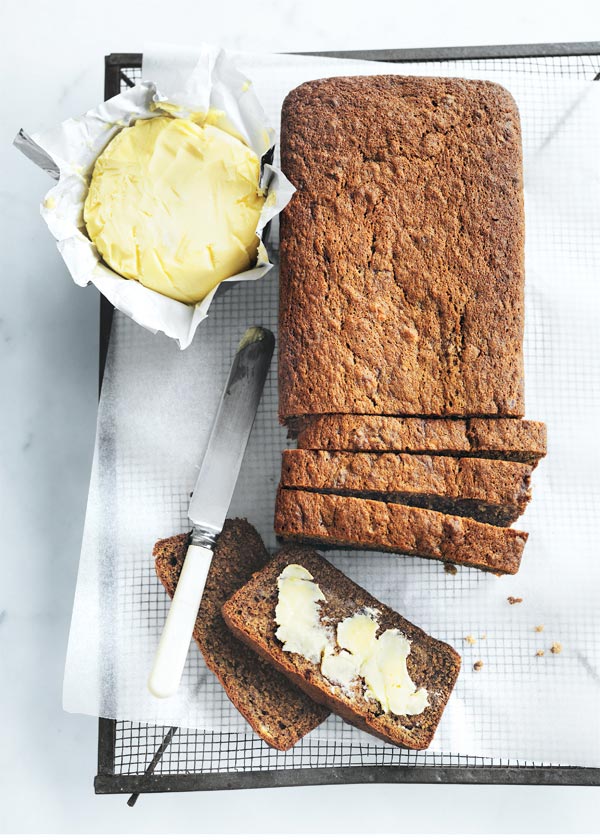 125g butter, softened

1 cup (175g) brown sugar
1 teaspoon vanilla extract
2 eggs
2 cups mashed banana
1¾ cups (255g) plain (all-purpose) flour, sifted
1 teaspoon baking powder, sifted
1 teaspoon bicarbonate of (baking) soda
1 teaspoon ground cinnamon
⅓ cup (115g) golden syrup
butter, extra, to serve

Preheat oven to 160°C (325°F). Place the butter, sugar and vanilla in an electric mixer and beat for 8–10 minutes or until pale and creamy. Scrape down the sides of the bowl.

Gradually add the eggs and beat well to combine. Add the banana, flour, baking powder, bicarbonate of soda, cinnamon and golden syrup and stir to combine.
Spoon the mixture into a 26cm x 11cm (2.5 litre-capacity) lightly greased loaf tin lined with baking paper. Bake for 60–65 minutes or until cooked when tested with a skewer.

Cool in the tin for 20 minutes before turning out onto a wire rack to cool completely. Slice and serve with the extra butter. Serves 6–8.

Jay J
This was amazing!!! We had a slice as soon as it was cool enough to eat and it was beautiful!! I didn't have golden syrup so subbed with Maple syrup and I added walnuts as we like some crunch. I think next time I'll add just 1/2 cup sugar and add 1/4 dates. Thanks Donna!!!
Patricia Gillett
I bake in a large muffin tin and then freeze they are great for a golf snack as I'm playing.. I also add walnuts and sultanas… fabulous recipe
Deb Nash
So delicious every time. Today I added 1/4 cup of dried cranberries & white choc chips
donna hay team
Hi Hanadi, we haven't tested this as one large version so we can't guarantee it will turn out the same. As it is a simple recipe to mix I suggest baking them individually. The DH Team.
Gill Dowd
I've made this loads and it turns out faultless each time. Love this recipe
Jennyfer brzoza
Simply fantastic
thank you. I just reduced the amount of sugar to 85gm personal preference

Thanks from Dubai !!
Hanadi Barsoum
I would like to bake this banana bread for 24 people but I don't want to bake it 3 times. Did anyone tried to bake 3 recipies in one go and used a bigger baking tray.
donna hay team
Hi, Madeleine. Yes, you certainly could use maple syrup. Enjoy! The DH Team.
Hayley Nixon
Caroline, I just replaced the eggs with flax 'eggs'. Google it, I use them all the time to replace eggs in cooking. Either ground flax seeds, or chia seeds.
Madeleine Edey
Can you replace the golden syrup with something else, like maple syrup?
donna hay team
Hi Caroline, that's a tricky one and I am not sure it will work. We have not tested this recipe without eggs so please let us know if you do have success. The dh team.
Caroline Bogusz
Is it possible to alter this receipe to be egg free? Could you just add more oil, or would it not hold together?
Alison Reinhardt
Over the years I have used many recipes for banana bread. I will never use another. Donna Hay is by far the best. DELICIOUS
Norma Leota
I was recommended this recipe by a friend. I just baked it today and it was absolutely delicious! I'd definitely be using this recipe again.
Nicole Lane
Really great recipe. The brown sugar and golden syrup give it such a good flavour. Great for using up lots of ripe bananas, you taste them but it's not overpowering. I cut half the loaf into slices and put them in the freezer for lunchboxes - it defrosts well.
Ilka Howell
This banana bread is the BEST. So easy to make and uses up a heap of overripe bananas (usually about 6) when other recipes only call for half that amount. Have made 4 times over the past 3 mths to put in freezer for school lunches but it is eaten so quickly it never makes it there!
Molly Duncan
So easy and absolutely delicious. Thank you for a great recipe.
Kat Gourley
Awesome recipe! Made it for one who doesn't like banana's that much and it has gone in her school lunch each day since I've made it!
L Gibs
I have a family of banana bread lovers and went away from usual recipe yesterday to try this one and it was an absolute hit! I am making it again today! Love the dense bread texture and the flavours.
Lisa Smith
I made this yesterday. Best banana bread moist delicious and so easy to cook. Thanks for the recipe will use this one again