caramel swirl marshmallows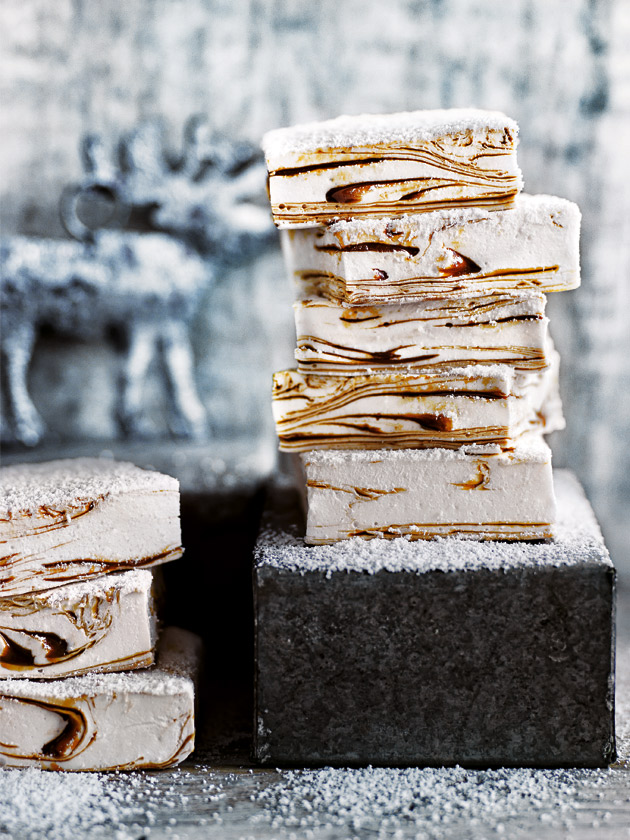 ½ cup (125ml) warm water

2 tablespoons powdered gelatine

1½ cups (330g) caster (superfine) sugar

⅔ cup (230g) liquid glucose

½ cup (125ml) water, extra

½ cup (150g) store-bought thick caramel or dulce de leche+

1 cup (160g) icing (confectioner's) sugar mixture, sifted

Lightly grease a 20cm x 30cm slice tin lined with non-stick baking paper. Place the warm water in an electric mixer, sprinkle over the gelatine and stir to combine. Set aside.

Place the caster sugar, glucose and extra water in a medium saucepan over low heat and cook, stirring, until the sugar is dissolved. Increase heat to high and bring to the boil.

Cook, without stirring, for 6–7 minutes or until the temperature reaches 115°C (239°F) on a sugar (candy) thermometer. With the mixer on high speed, gradually add the hot syrup to the gelatine mixture, in a thin steady stream, and beat for 3 minutes or until thick and glossy.

Working quickly, gently fold through the caramel. Carefully spoon the mixture into the tin. Using a piece of greased baking paper, carefully smooth the marshmallow into an even layer.

Refrigerate for 1–2 hours or until set. Lift the marshmallow onto a board. Dust a large knife with a little of the icing sugar mixture and cut into 6cm squares. To serve, dust the marshmallows with the remaining icing sugar mixture and package in paper bags. Makes 15.

+ You can make your own dulce de leche with our recipe here.
Tip: The marshmallows will keep in the fridge for up to one week.
There are no comments for this entry yet.