cloth steamed plum puddings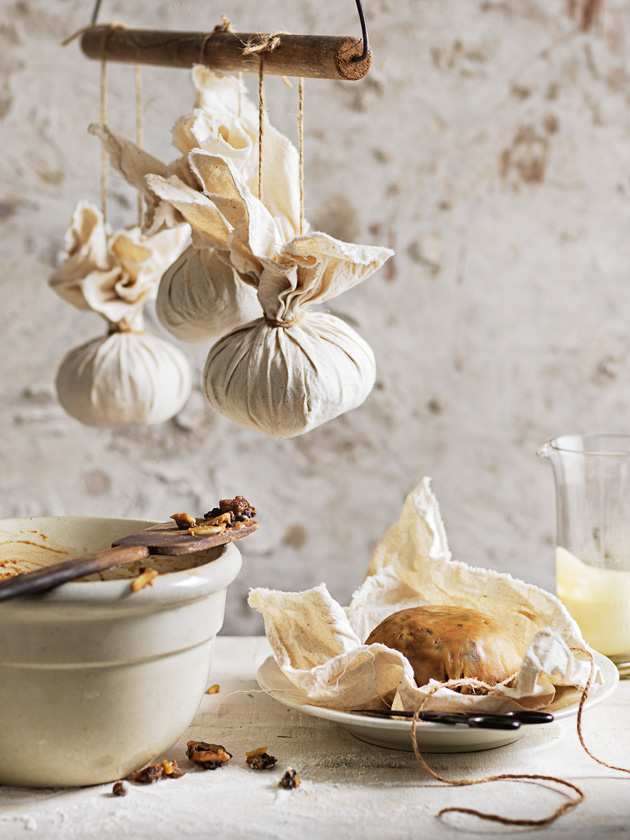 ½ cup (80g) sultanas

½ cup (80g) currants

½ cup (75g) raisins

1 cup (170g) pitted prunes, chopped

½ cup (70g) slivered almonds

⅔ cup (180ml) Pedro Ximénez sherry+, plus ½ cup (125ml) extra, to serve

125g unsalted butter, chopped and softened

½ cup (90g) brown sugar

3 eggs

½ cup (75g) plain (all-purpose) flour, sifted, plus 1⅓ cups (200g) extra, for dusting

¼ teaspoon bicarbonate of (baking) soda, sifted

2 cups (140g) fresh white breadcrumbs

½ teaspoon mixed spice

1 teaspoon finely grated lemon rind

Place the sultanas, currants, raisins, prune, almonds and sherry in a large bowl and mix to combine. Cover with plastic wrap and place in a cool, dark place for 24 hours, stirring occasionally.

Place the butter and sugar in the bowl of an electric mixer and beat for 8–10 minutes or until light and fluffy. Add the eggs, one at a time, beating well after each addition, until pale and creamy. Add the butter mixture, flour, bicarbonate of soda, breadcrumbs, mixed spice and lemon rind to the fruit mixture and mix well to combine.

Cut 4 x 40cm square pieces of unbleached calico. 
Place in a large saucepan of boiling water and boil for 20 minutes. Bring a second large saucepan of water to 
the boil. Wearing thick rubber gloves++, remove one piece of calico from the saucepan and squeeze out the excess water. Working quickly so the calico stays hot, spread the calico out on a clean surface and sift over ⅓ cup (50g) of the extra flour, ensuring the flour is a little thicker in the centre of the calico. Place one quarter of the pudding mixture into the centre of the calico, and dust the top with a little flour. Carefully gather the corners of the calico together firmly. Using kitchen twine, tie the calico as close to the pudding mixture as possible, tying around several times to secure. Bring the ends of the cloth together and tie a second piece of twine around the neck of the cloth, about 5cm from the top of the calico, tying around several times to secure and ensure the pudding is watertight. Repeat with the remaining puddings.

Carefully lower the puddings into the second saucepan of boiling water. Cover with a small heatproof plate and cook for 2 hours, adding more boiling water as needed to ensure the puddings are completely submerged.

Working one at a time, remove the puddings from the pan and place in a colander. Immediately cut the string and carefully peel back the cloth. Invert the puddings onto a plate and spoon over the extra sherry to serve. makes 4.

+ Pedro Ximénez is a dark, sweet Spanish sherry which adds a rich flavour to the puddings.
++ Use a new pair of washing up gloves for this. The gloves help protect your hands when working with the hot calico.
donna hay team
Hi Bree, stored in the refrigerator, the puddings will last for up to 2 months. The DH team x
donna hay team
Hi Bree, these puddings are best stored in the refrigerator wrapped in cling film. To reheat, rewrap your puddings in calico and add to boiling water and heat for 30 minutes. Or alternatively, you can reheat them wrapped in cling film in the microwave. The DH team x
Bree Hipworth
How long does the pudding last once it is cooked?
Bree Hipworth
I would like to make these for gifts. Could you please confirm how long they last, storage instructions and re-heating instructions. Thanks Bree