wholemeal poppy seed lavosh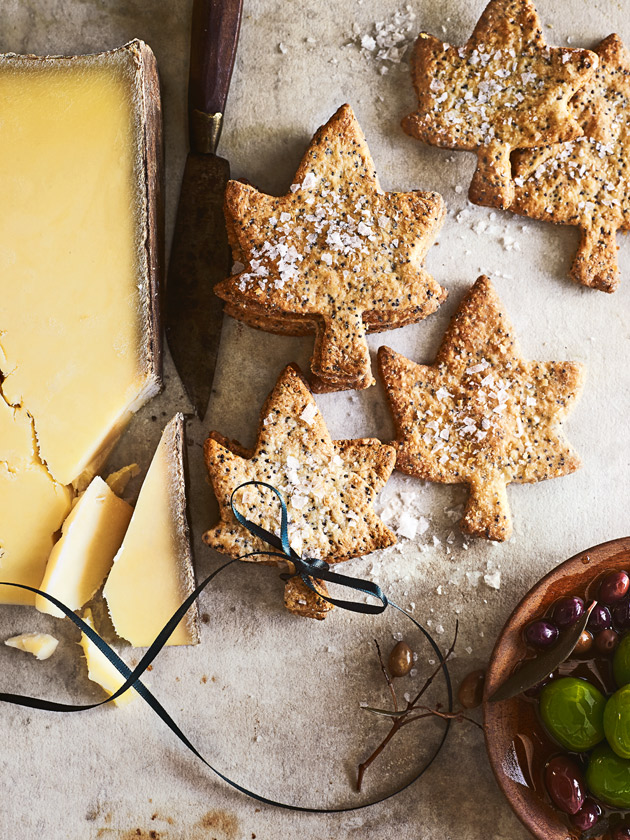 1 teaspoon dried yeast

⅔ cup (160ml) lukewarm water

1 teaspoon caster (superfine) sugar

1½ cups (240g) wholemeal plain flour

2 tablespoons poppy seeds

1 teaspoon sea salt flakes, plus extra to sprinkle

¼ cup (60ml) extra virgin olive oil, plus extra for brushing

Place the yeast, water and sugar in a small bowl and mix to combine. Set aside in a warm place for 5–10 minutes or until the surface is foamy.
Place the flour, poppy seeds and salt in a large bowl and mix to combine. Make a well in the centre, add the oil and yeast mixture and mix until a dough forms. Turn out onto a work surface and knead for 5–6 minutes or until smooth and elastic. Place in a lightly oiled large bowl, cover with plastic wrap and set aside in a warm place for 20 minutes or until risen slightly.

Preheat oven to 180°C (350°F). Roll the dough out on a lightly floured surface to 1mm thick. Using a 6.5cm and 7.5cm leaf cutter, cut out 40 leaves. Place half the lavosh on 2 large baking trays lined with non-stick baking paper, brush with extra oil and sprinkle with extra salt. Cook for 10–12 minutes or until puffed and golden brown. Transfer to a wire rack to cool and repeat with the remaining lavosh. Serve. Makes 40.

There are no comments for this entry yet.