twisted honey caramels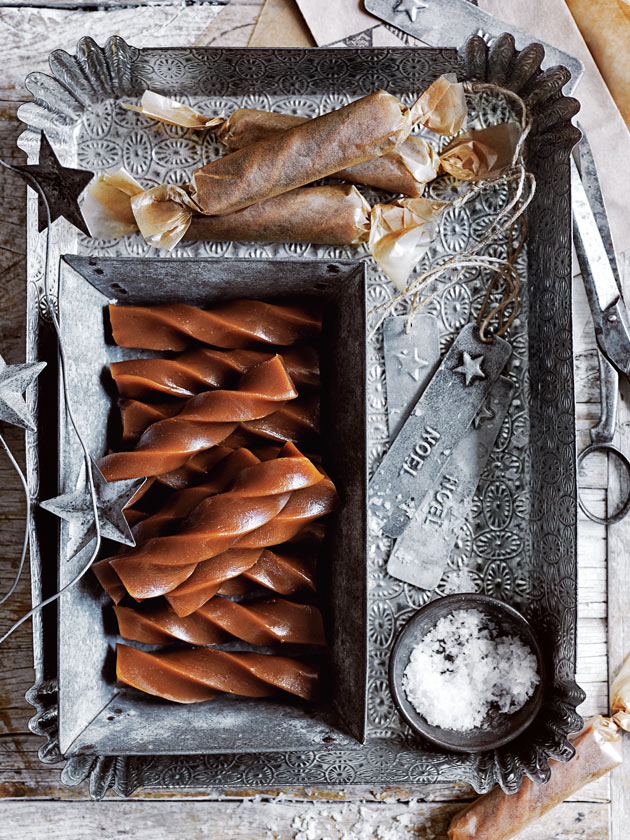 1 cup (250ml) double (thick) cream

65g unsalted butter, chopped

1⅓ cups (295g) white (granulated) sugar

⅔ cup (240g) honey

sea salt flakes (optional), to serve

Lightly grease and line the base and sides of a 20cm x 20cm square cake tin. Place the cream and butter in a small saucepan over low heat and stir until the mixture is warm and the butter has melted. Set aside and keep warm.

Place the sugar and honey in a medium deep-sided saucepan over medium heat and cook, stirring occasionally, until the sugar has dissolved. Bring the mixture to the boil, insert a sugar (candy) thermometer and cook, brushing down the sides with a wet pastry brush, for 6–7 minutes or until the temperature reaches 154°C (309°F). Gradually add the warm cream mixture and stir well to combine. Cook for a further 11–12 minutes or until the temperature reaches 127°C (260°F). Pouring carefully, immediately add the caramel to the prepared tin and allow to stand at room temperature for 4 hours or until firm.

Cut the caramel into 1cm-wide lengths, halve each length and twist the caramels from each end. Wrap in squares of non-stick baking paper and twist the ends to seal. Refrigerate until needed. Sprinkle with sea salt, if using, to serve. Makes 40.

Tip: These caramels will keep in the refrigerator for up to one week.
There are no comments for this entry yet.