smoked almond, pear and marsala christmas cake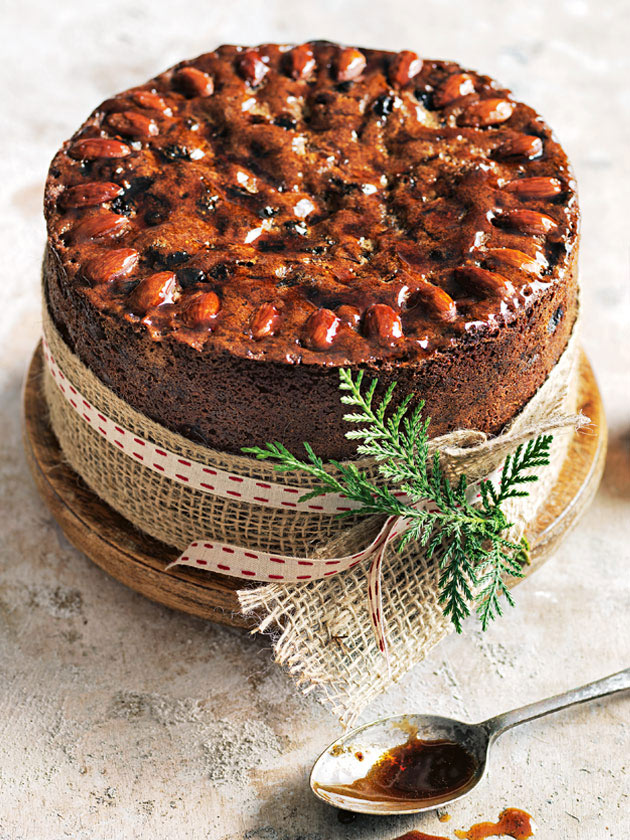 3 cups (450g) raisins

1½ cups (240g) sultanas

½ cup (90g) tart dried cherries

1 cup (160g) natural smoked almonds, chopped, plus 24 whole natural smoked almonds, extra
1 cup (190g) chopped dried figs

1½ cups (215g) peeled and grated pear

1¼ cups (310ml) marsala, plus ½ cup (125ml) extra

300g unsalted butter, chopped and softened

1¼ cups (220g) brown sugar

2 teaspoons vanilla extract

4 eggs

2½ cups (375g) plain (all-purpose) flour, sifted

¼ teaspoon bicarbonate of (baking) soda

1 teaspoon ground allspice

Place the raisins, sultanas, cherries, almond, fig, pear and marsala in a large bowl and stir to combine. Cover with plastic wrap and set aside in a cool dark place, stirring occasionally, for 24 hours to soak+.

Preheat oven to 140°C (275°F). Place the butter, sugar and vanilla in the bowl of an electric mixer and beat for 8 minutes or until light and creamy. Add the eggs, one at a time, beating well after each addition. Place the fruit mixture, flour, bicarbonate of soda and allspice in a large bowl and mix well to ensure the fruit is coated in flour. Add the butter mixture and mix well to combine.
Line the base and side of a lightly greased 20cm x 10cm tall round cake tin with 2 layers of non-stick baking paper. Spoon the cake mixture into the tin and smooth the top. Press the whole almonds into the top of the cake. Place on a baking tray and cook for 2 hours 30 minutes or until cooked when tested with a skewer.

While the cake is still warm, spoon over the extra marsala. Serve. Serves 12.

+ If you don't have time to soak the fruit overnight, place the dried fruit, almond and marsala in a large saucepan over high heat and cook, stirring, for 8–10 minutes or until the liquid has been absorbed and the fruit has softened. Stir through the pear and set aside to cool completely.
donna hay team
Hi Josephine, some almonds have been artificially smoked with flavour and some have been smoked over wood chips. You can use either however we prefer the natural wood smoked ones. Happy cooking! The DH team x
Josephine Clarke
What are natural smoked almonds? I am unable to find smoked almonds that have not been salted.