vanilla soft serve ice-cream
with maple and bourbon syrup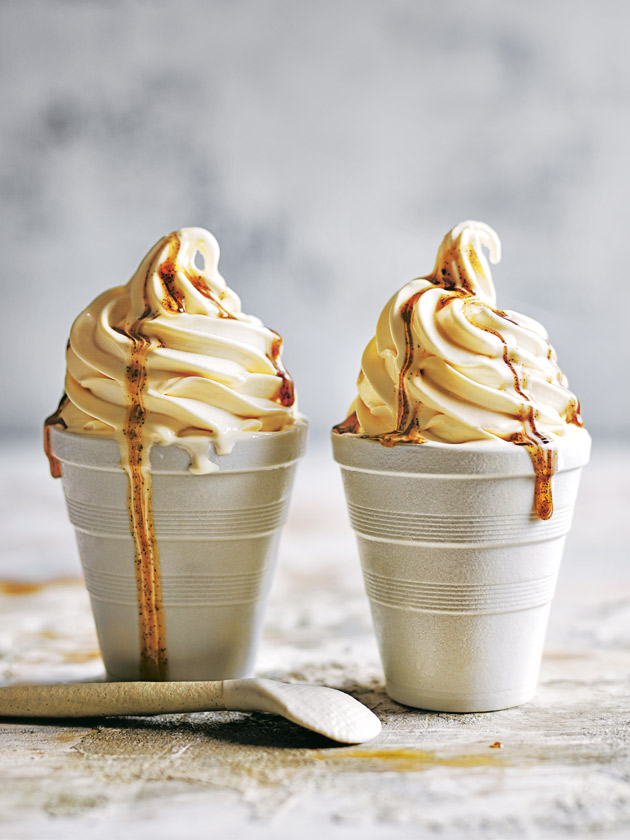 3 cups (750ml) single (pouring) cream

1 cup (250ml) milk

1 cup (160g) icing (confectioner's) sugar, sifted

1 tablespoon vanilla extract
maple and bourbon syrup
3 teaspoons vanilla bean paste

¼ cup (60ml) maple syrup

¼ cup (60ml) water

1 tablespoon bourbon

Place the cream, milk, icing sugar and vanilla in a large jug and whisk to dissolve the sugar. Divide the mixture between 2 large zip-lock bags, pressing out as much air as possible, and seal.
Lay each bag flat on a baking tray and freeze for 2½ hours or until firm and just frozen.

While the ice-cream is freezing, make the syrup. Place the vanilla, maple syrup and water in a small saucepan over medium heat.
Bring to the boil, reduce heat to low and cook for 4 minutes or until reduced and syrupy. Add the bourbon and mix to combine. Remove from heat and refrigerate until cold.
Remove the ice-cream from the freezer and, using your hands, bend each bag to break up the mixture into small pieces.

Place the mixture in a food processor and process for 2–3 minutes or until just smooth, breaking up any large pieces with a spoon.

Spoon the ice-cream into a large piping bag fitted with a 1.5cm star nozzle. Pipe the ice-cream into cups and drizzle with the syrup to serve. Serves 8.

There are no comments for this entry yet.