crispy chicken wings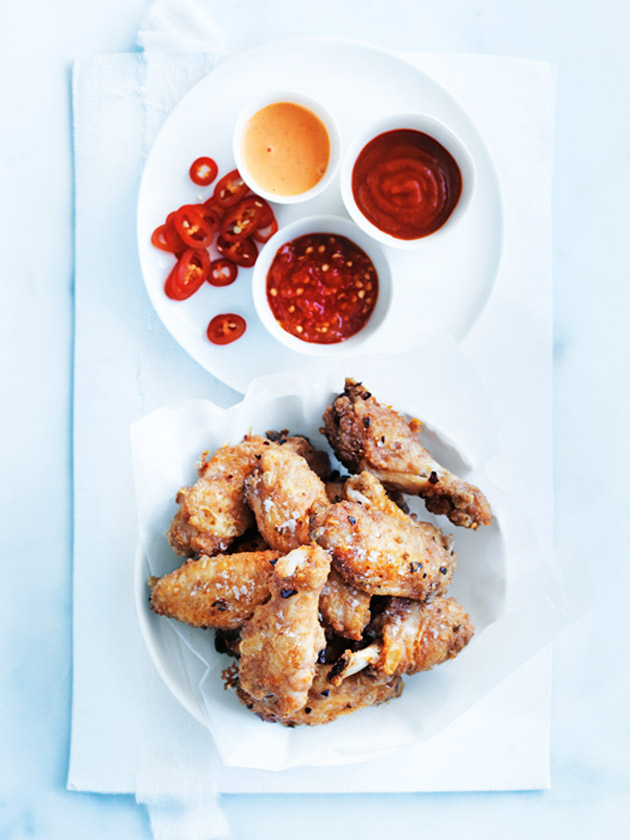 1kg chicken wings

¼ cup (35g) cornflour (cornstarch)

2 tablespoons vegetable oil

1 tablespoon sea salt flakes

½ teaspoon Chinese five-spice

1 teaspooon dried chilli flakes

hot chilli sauce, pickled chilli, thinly sliced fresh chilli and chilli mayonnaise (optional), to serve

Preheat oven to 220°C (425°F). Using kitchen scissors, trim the tips from the wings and discard. Cut the wings in half to the joint and place in a plastic bag with the cornflour. Shake to coat, dusting off any excess cornflour.

Place the oil, salt, five-spice and dried chilli in a large bowl. Add the wings and toss to coat.

Place on a baking tray lined with non-stick baking paper and roast for 25–30 minutes or until crisp. Serve with chilli sauce, chillies and chilli mayonnaise. Serves 4.

Mikela Dennison
This is the most incredible (and easy) chicken recipe ever! I made it last night, using 4 drumsticks instead of the wings, and it turned out far better than I could have hoped for. My fiance wanted to go to the supermarket and buy more chicken so we could make another batch. I served the crispy chicken with a simple green salad with a sesame-miso dressing, and also popped in some new season Marlborough asparagus into the oven for the last 12 minutes, which soaked up the chicken coating and crisped up perfectly. A dream meal for a mid-week meal in a hurry.