quinoa, mushroom and thyme risotto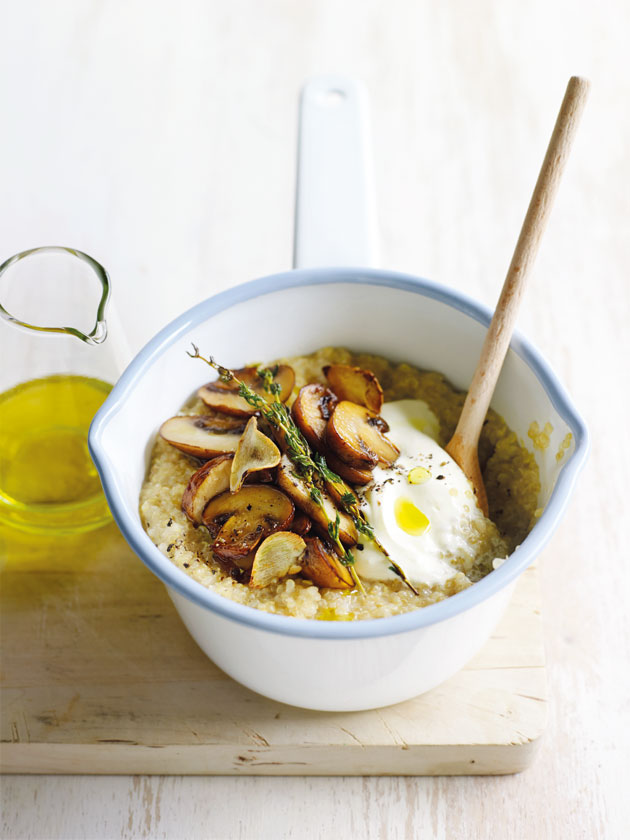 25g unsalted butter
1 onion, finely chopped
½ cup (125ml) dry white wine
1½ cups (300g) white quinoa
1½ litres hot vegetable or chicken stock
½ cup (40g) finely grated parmesan
sea salt and cracked black pepper
2 tablespoons extra virgin olive oil
300g Swiss brown mushrooms, thinly sliced
2 cloves garlic, sliced
6 sprigs thyme
¼ cup (60g) mascarpone

Melt the butter in a medium saucepan over medium heat. Add the onion and cook, stirring occasionally, for 4–5 minutes or until softened. Add the wine and cook for 3–4 minutes or until reduced. Add the quinoa and cook, stirring, for 1–2 minutes. Add the stock, 1 cup (250ml) at a time, adding more stock once absorbed, and cook, stirring frequently, for 25–30 minutes or until the quinoa is just cooked. Remove from the heat, stir through half the parmesan, salt and pepper and set aside.
Heat the oil in a non-stick frying pan over high heat. Add the mushroom, garlic, thyme, salt and pepper and cook, stirring occasionally, for 4–6 minutes or until golden. Add half the mushroom mixture and the mascarpone to the risotto and stir to combine. Divide between bowls and top with remaining mushroom and parmesan to serve. Serves 4.

There are no comments for this entry yet.