slow-cooked lamb ribs
with mint and malt vinegar relish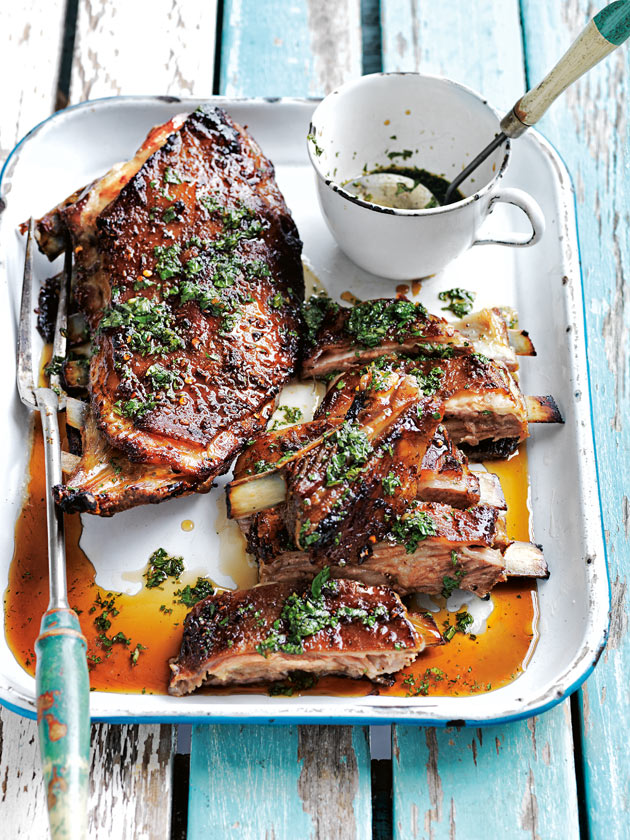 1 teaspoon dried chilli flakes

1 tablespoon ground cumin

2 teaspoons ground coriander

2 teaspoons sea salt flakes

½ teaspoon cracked black pepper

2 tablespoons brown sugar

¼ cup (60ml) malt vinegar

2 x 6-rack lamb ribs (2.5kg), skin on and trimmed

mint and malt vinegar relish
1/3 cup (60g) brown sugar

½ cup (125ml) malt vinegar

1 clove garlic, crushed

½ cup mint leaves, finely chopped

Preheat oven to 160°C (325°F). Place the chilli, cumin, coriander, salt, pepper, sugar and vinegar in a bowl and mix to combine.

Rub the ribs with the spice mixture and place, skin-side up, on a 
large roasting tray. Cover with aluminium foil and cook for 2 hours.


Remove the foil, increase temperature to 220°C (425°F) and cook for 10 minutes
or until dark golden and caramelised.

To make the mint 
and malt vinegar relish, place the sugar, vinegar and garlic in a small
saucepan over high heat.

Bring to a simmer and cook for 2 minutes or
until slightly syrupy. Remove from the heat, set aside to cool slightly and add
the mint.

Slice the ribs and serve with the mint relish. Serves 4.

There are no comments for this entry yet.