frozen berry pudding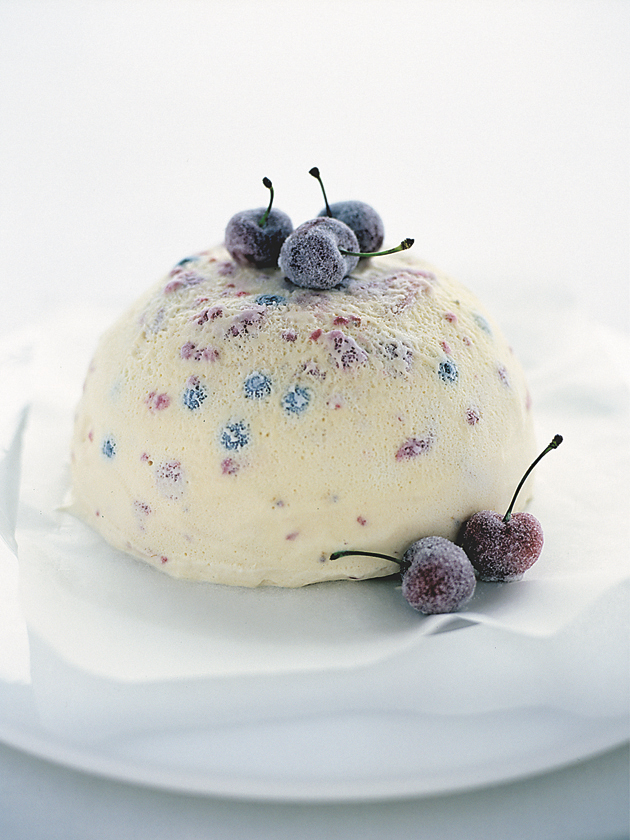 3 eggs

2 egg yolks

½ teaspoon vanilla extract

1 cup (220g) caster (superfine) sugar

3⅓ cups (500g) frozen mixed berries, such as blueberries, raspberries and strawberries

1¾ cups (435ml) pouring (single) cream

frosted cherries
1 cup (150g) cherries

1 eggwhite
caster (superfine) sugar, to coat

Place the egg, yolks, vanilla and sugar in a heatproof bowl placed over a saucepan of simmering water and beat with a hand-held beater for 4-5 minutes or until heated and frothy. Remove from the heat and beat until pale and thick. Gently fold through the berries. Set aside.

Beat the cream in an electric mixer until very soft peaks form. Gently fold the egg mixture into the cream until just combined. Spoon into a round pudding bowl, cover and freeze for 4-6 hours or until firm.

To make the frosted cherries, brush cherries with the eggwhite and roll in the sugar. Place on a baking tray lined with non-stick baking paper and a layer of sugar until set.

To serve, remove pudding from freezer and dip tin in hot water to loosen. Invert onto a plate, turn out and serve with frosted cherries. Serves 6-8.

There are no comments for this entry yet.