hopscotch cake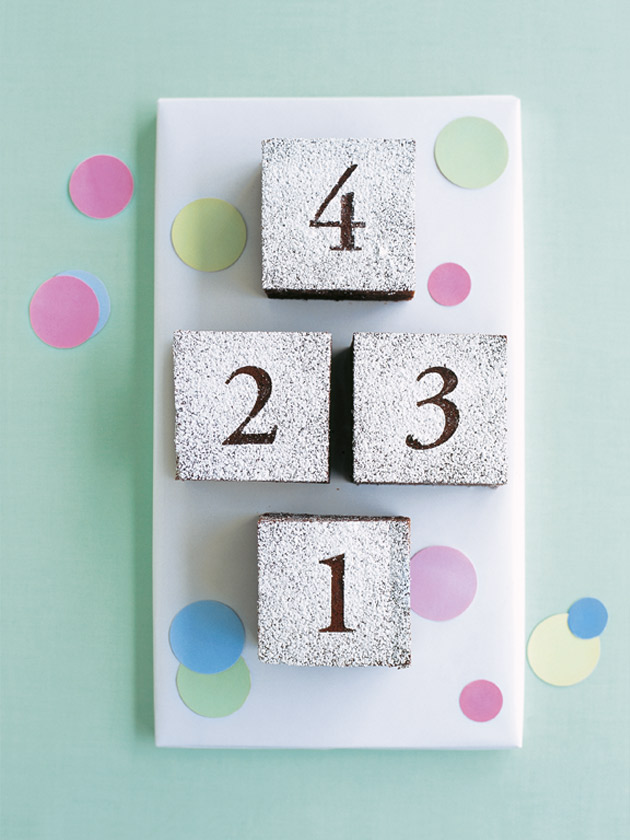 2½ cups (375g) plain (all-purpose) flour

3 teaspoons baking powder

2 cups (350g) brown sugar

200g unsalted butter, melted

3 eggs

1 cup (250ml) milk

⅓ cup (35g) cocoa powder, sifted

200g dark cooking chocolate, melted

icing (confectioner's) sugar, sifted for dusting

Preheat the oven to 160°C (320°F).

Place the flour, baking powder, sugar, butter, eggs, milk, cocoa and chocolate in a bowl and mix well to combine. Pour the mixture into a lightly greased 22cm (8½ in) square cake tin lined with baking paper. Bake for 1¼ hours or until cooked when tested with a skewer.
Cool in the tin for 
5 minutes then turn out onto a wire rack to cool. Trim the top off the cake and brush off any crumbs using a pastry brush. Cut the cake into four squares and place them upside down on a cake board.
Cut 
the numbers out of paper or buy wooden templates and cookie cutters from specialty baking stores. Place a number on each of the cakes and dust with the icing sugar. Carefully remove the numbers and arrange the cakes in the shape of a hopscotch. Serves 8.

There are no comments for this entry yet.