smoked chicken and fennel blini sandwiches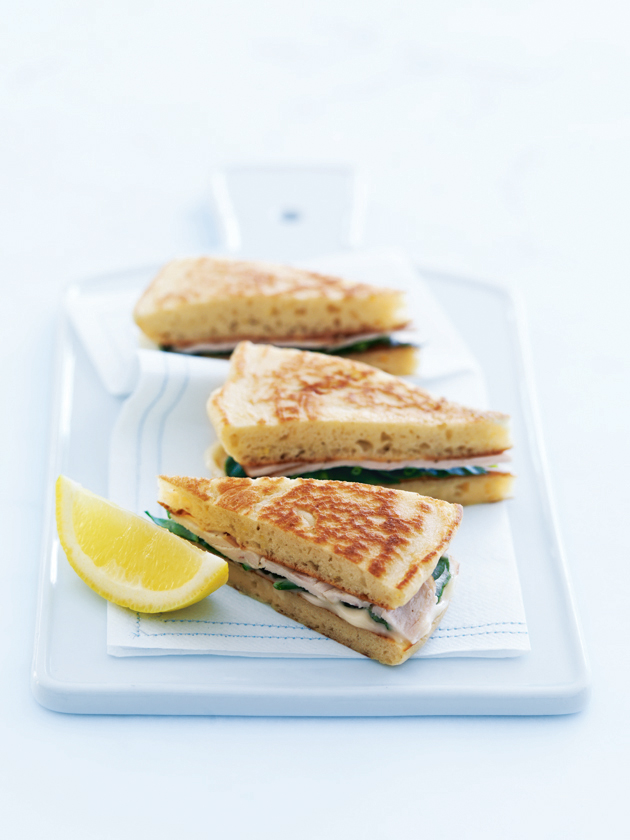 1 clove garlic, crushed
1 quantity basic blini mixture, (see basic blini recipe)
¼ cup (75g) whole-egg mayonnaise
2 teaspoons finely grated lemon rind
1 baby fennel, thinly sliced
½ cup basil leaves
1 x 160g smoked chicken breast fillet, sliced
¼ cup chopped chives
lemon wedges, to serve

Fold the garlic through the blini mixture. Heat a lightly greased, non-stick 18cm-frying pan over medium heat. Spoon half of the blini mixture into the pan and spread to cover the base. Cook for 3–4 minutes or until bubbles appear on the surface. Flip and cook for a further 3–4 minutes or until golden. Repeat with remaining blini mixture. Allow to cool.

Place the mayonnaise and lemon rind in a bowl and stir to combine. Spread one of the blinis with the mayonnaise mixture and top with fennel, basil, chicken and chives. Sandwich with the remaining blini, cut into wedges and serve with lemon. Serves 4.

There are no comments for this entry yet.