chocolate tiramisu pie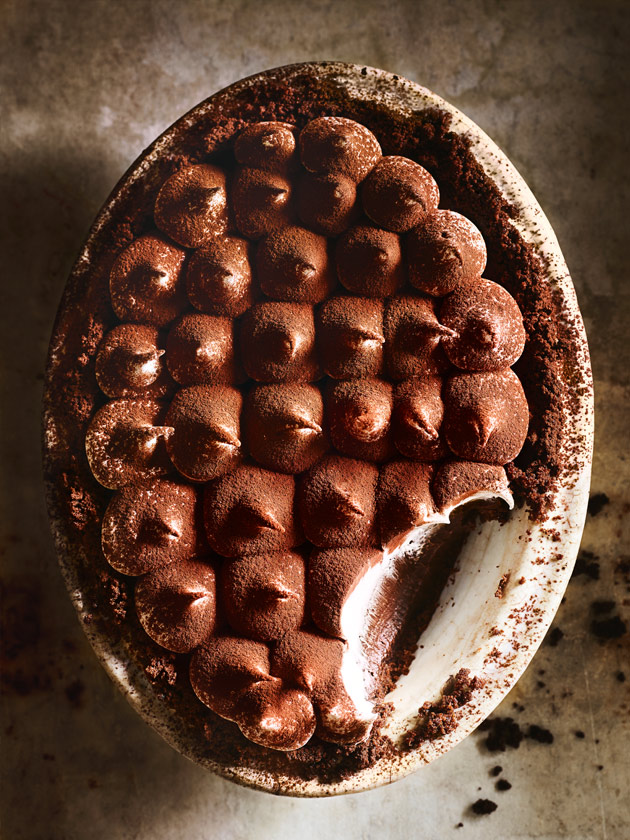 250g store-bought plain chocolate biscuits

100g unsalted butter, chopped and melted

600g dark chocolate, chopped

½ cup (125ml) strong espresso coffee

1¼ cups (310ml) single (pouring) cream

dutch cocoa, for dusting

whipped mascarpone
1½ cups (375ml) single (pouring) cream

¾ cup (180g) mascarpone

Place the biscuits and butter in a food processor and process until finely crushed. Press into the base and sides of a 25cm (1.5-litre-capacity) oval dish. Refrigerate for 10 minutes or until firm. Clean the food processor, add the chocolate and pulse until finely chopped.
Place the coffee and cream in a small saucepan over high heat and bring to just below the boil. Remove from the heat, add the chocolate and stand for 5 minutes. Stir until melted and smooth. Pour into the dish and refrigerate for 3–4 hours or until set.
To make the whipped mascarpone, place the cream and mascarpone in a large bowl and whisk until soft peaks form. Place the mascarpone mixture in a piping bag fitted with a 1.5cm round nozzle. Pipe the mascarpone mixture on top of the chocolate ganache filling and dust with the cocoa to serve. Serves 10–12.
Sasha Washington
I loved this pie!! I'm 14 years old and I made this all by myself! It was rich but I guess that's from the dark chocolate. I love baking from your recipes, Donna. Luv you!!!!
donna hay team
Hi Sally, we're not sure where things are going wrong as the chocolate mixture should set. The cream, coffee and chocolate will set when refrigerated for the required time. The dh team.
Sally Baikie
The chocolate mixture just doesn't set, there is something wrong with this recipe, such expensive ingredients too. I'd value your feedback, Sally