coconut and passionfruit semifreddo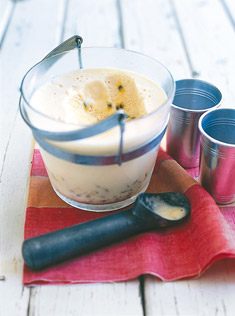 2 eggs

1 egg yolk

½ cup (110g) caster (superfine) sugar

½ cup (125ml) pouring (single) cream

½ cup (125ml) passionfruit pulp

⅓ cup (80ml) coconut cream+

Place the eggs, egg yolks and sugar in a heatproof bowl. Place over a saucepan of simmering water and whisk with a hand-held beater for 3–4 minutes or until thick and pale. Remove from the heat and whisk for a further 3–4 minutes or until cool. Set aside.

Whisk the cream until soft peaks form. Gently fold the passionfruit pulp through the cream until just combined. Gently fold the egg mixture and the coconut cream into the passionfruit mixture until just combined. Pour the mixture into a 5-cup capacity dish and freeze for 4–6 hours or overnight. Scoop to serve. Serves 4–6.

+ Use pure coconut cream (no water added) for extra creaminess.
Margaret Flaherty
Wow! Moved to tropics 12 months ago and have been searching for tropical food, able to be prepared beforehand, spectacular appearance, great taste, not too expensive and no fancy equipment/machine needed . THIS IS IT!!! It set in two layers, and when upturned the passionfruit was on top. I wouldn't use individual glasses - but patty pans would be OK so you can invert to serve. I served with lemon tart but strawberries, mangoes etc would be enough! It's now in my favourites list! Thanks Donna