coconut, lime and coriander
poached chicken salad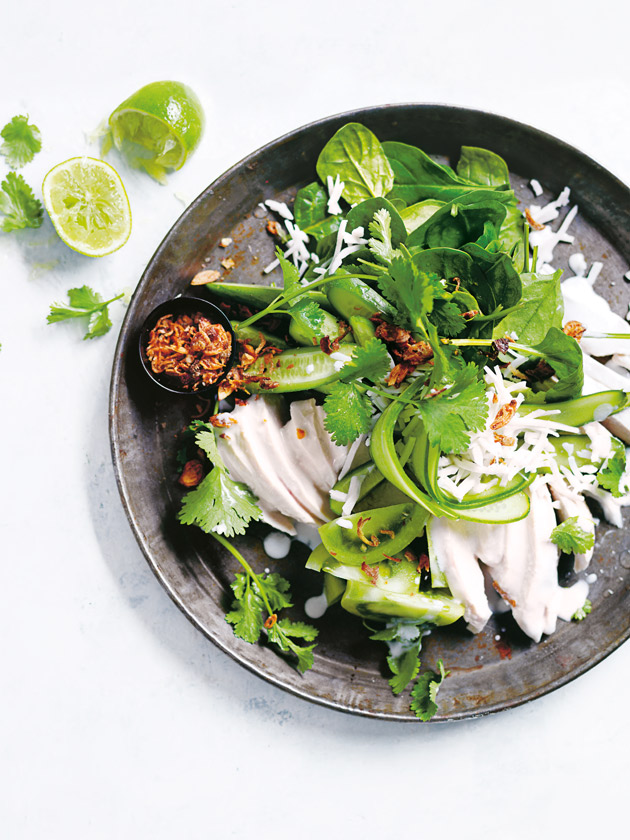 2 x 400ml cans coconut milk

½ cup (125ml) water

1 lime, sliced, plus extra wedges to serve

4 x 5cm coriander roots

1 teaspoon sea salt flakes

1 teaspoon fish sauce

4 x 220g chicken breast fillets, trimmed

½ cup (40g) shredded coconut

2 cups baby spinach leaves

2 baby cucumbers (cukes), thinly sliced

1 cup coriander leaves

2 green heirloom tomatoes, quartered

store-bought crispy fried shallots, to serve

Place the coconut milk, water, lime, coriander roots, salt and fish sauce in a large deep-sided frying pan over high heat and bring to the boil. Add the chicken, reduce the heat to low and cook, covered, for 12–15 minutes or until cooked through. Remove chicken from the pan and cool.

Strain poaching liquid, reserving 1 cup (250ml), and allow to cool completely.

While the chicken is cooling, place shredded coconut in a bowl, cover with boiling water and soak for 10 minutes. Drain.

Place the spinach, cucumber, coriander leaves, tomato and coconut in a bowl. Pour over reserved liquid, toss to combine and divide among bowls. Slice the chicken, place on top of the salad, sprinkle with shallots and serve with extra lime. Serves 4.

There are no comments for this entry yet.