portuguese-style chicken skewers
with coriander yoghurt sauce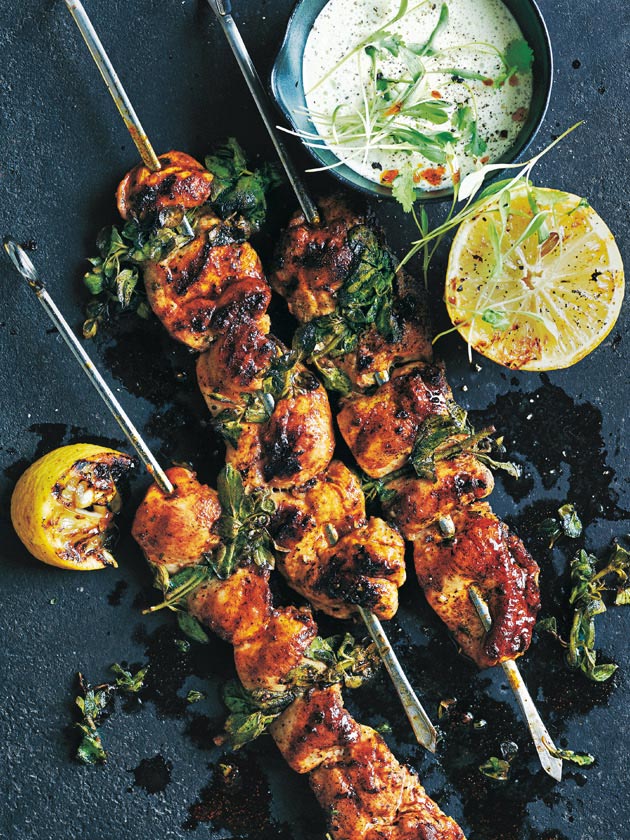 1 tablespoon smoked paprika

1 teaspoon cayenne pepper

2 teaspoons oregano leaves, finely chopped

6 cloves garlic, crushed

1 teaspoon sea salt flakes

2 tablespoons extra virgin olive oil

800g chicken thigh fillets, trimmed and cut into thin strips

12 oregano sprigs, halved

1 lemon, halved
micro (baby) coriander (cilantro) leaves, to serve

coriander yoghurt sauce
1 cup (280g) natural Greek-style (thick) yoghurt

1 cup coriander (cilantro) leaves, chopped

½ teaspoon sea salt flakes

½ teaspoon cracked black pepper

Preheat a char-grill pan or barbecue to high heat. Place the paprika, cayenne, oregano, garlic, salt and oil in a large bowl and mix to combine. Add the chicken and toss well to coat.

Thread the chicken onto 8 metal skewers and tuck 3 oregano sprigs onto each skewer. Cook the skewers for 3–4 minutes each side or until charred and cooked through.

Cook the lemon, cut-side down, for 3–4 minutes or until charred. Set aside and keep warm. To make the coriander yoghurt sauce, place the yoghurt, coriander, salt and pepper in a small food processor and process for 30 seconds to combine.

Serve the skewers with the yoghurt sauce, lemon and micro coriander. Serves 4.

There are no comments for this entry yet.