savoury oats with roast thyme mushrooms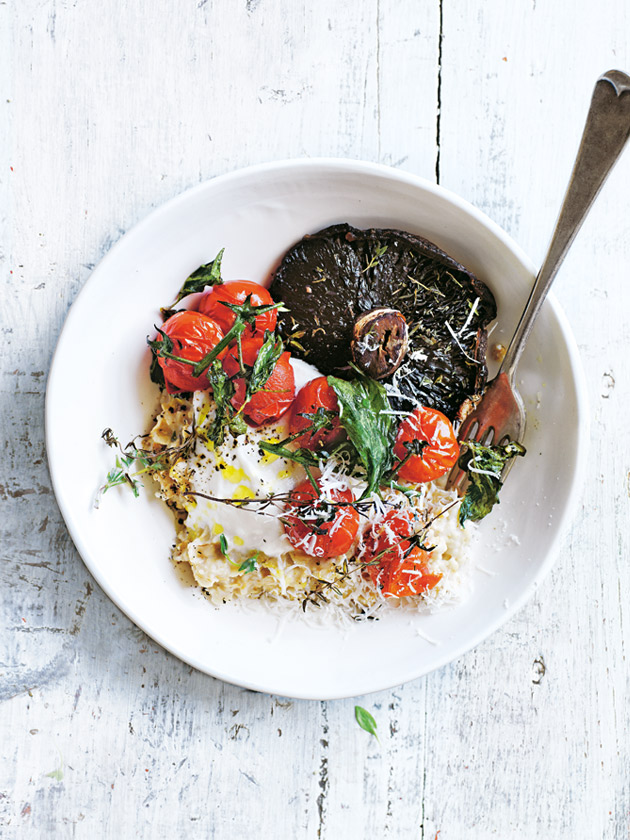 4 x 80g portobello mushrooms
350g vine-ripened cherry tomatoes
1 cup basil leaves
sea salt and cracked black pepper
15 thyme sprigs, plus extra to serve
¼ cup (60ml) extra virgin olive oil
3 cloves garlic, crushed
3 cups (270g) rolled oats
2 cups (500ml) water
2 cups (500ml) milk
goat's curd and finely grated ricotta salata, to serve
Preheat oven to 200°C (400°F). Place the mushrooms, tomatoes, basil, salt, pepper and 10 of the thyme sprigs on a large oven tray lined with non-stick baking paper.
Drizzle with 2 tablespoons of the oil and cook for 10–15 minutes or until the tomatoes are blistered. Heat the remaining oil in a large saucepan over medium heat. Add the garlic and cook for 1 minute, stirring.
Add the oats, water, half the milk, salt and pepper. Chop the leaves of the remaining thyme sprigs and add to the pan. Cook, stirring, for 6–8 minutes or until the oats are cooked through.
Remove from the heat, add the remaining milk and stir to combine. Divide the oats between bowls. Top with the mushroom, goat's curd, tomatoes, basil and ricotta salata. Serves 4.
There are no comments for this entry yet.
RELATED VIDEO