spiced freekeh, fig and haloumi salad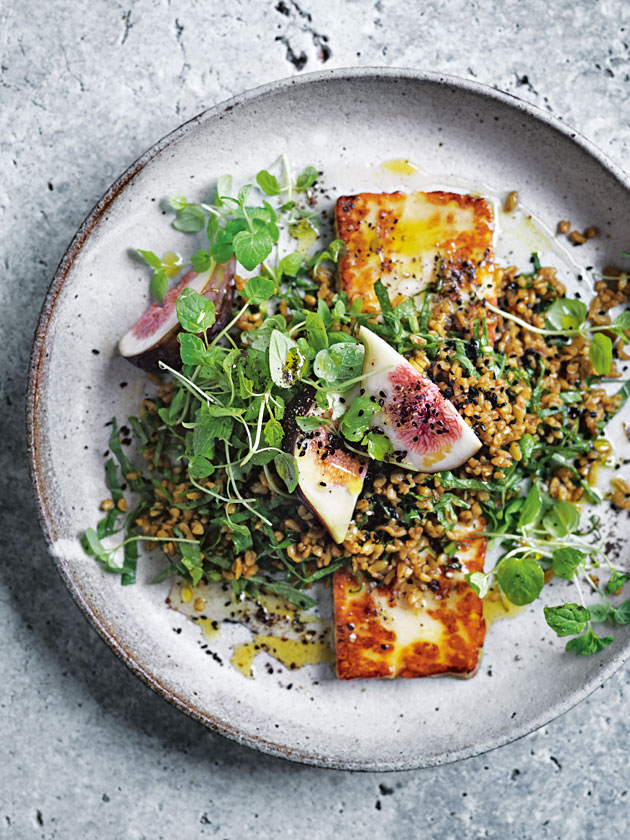 ¼ cup (60ml) extra virgin olive oil
1½ tablespoons ras el hanout
1½ cups (245g) cracked freekeh
2¼ cups (560ml) water
220g haloumi, thinly sliced
2 cups mint leaves, shredded
1 bunch rocket leaves, trimmed and shredded
2 tablespoons lemon juice
sea salt and cracked black pepper
4 black figs, quartered
1 tablespoon nigella seeds
micro (baby) mint, to serve
1 tablespoon honey
Heat 1 tablespoon oil in a medium saucepan over high heat. Add the ras el hanout and freekeh and cook for 1 minute. Add the water and bring to the boil. Cover with a lid, reduce heat to low and cook for 15 minutes. Remove from the heat and set aside, covered, for 10 minutes. Place in a large bowl and set aside to cool completely.

Heat 1 tablespoon of the oil in a non-stick frying pan over high heat. Add the haloumi and cook for 3 minutes each side or until golden. Divide the haloumi between 4 plates. Add the mint, rocket, lemon juice, salt, pepper and remaining oil to the freekeh and gently toss. Top the haloumi with the spiced freekeh. Top with the fig, nigella seeds, mint and pepper, and drizzle with the honey to serve. Serves 4.

There are no comments for this entry yet.