cheat's chilli duck and basil stir-fry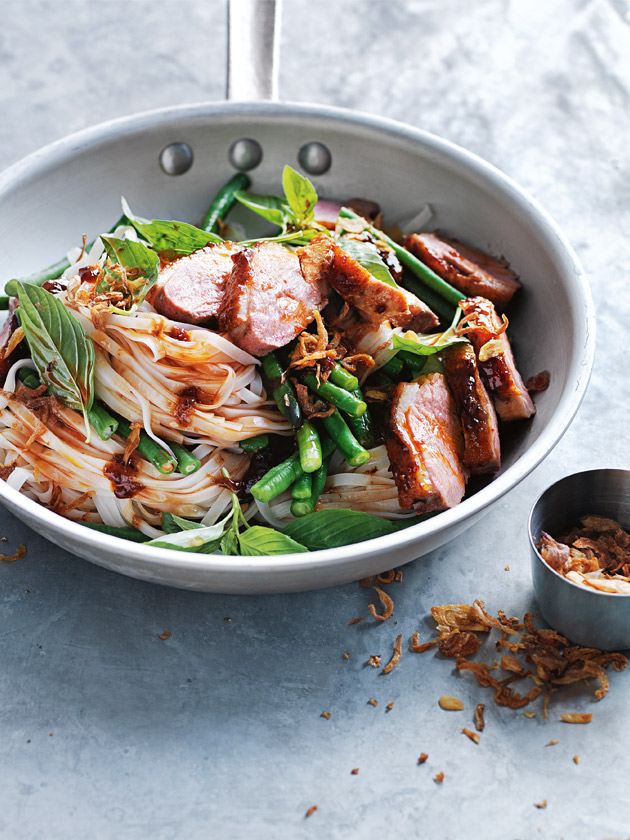 ⅓ cup (110g) Asian chilli jam

¼ cup (60ml) lime juice

4 x 220g duck breasts fillets, trimmed and scored

200g thick rice noodles, cooked

1 bunch snake beans, blanched and cut into 10cm lengths

1 cup Thai basil leaves, to serve

store-bought fried eschalots (French shallots), to serve

Place the chilli jam and lime juice in a small bowl, mix to combine and set aside. Heat a large frying pan over high heat. Add the duck and cook, skin-side down, for 6 minutes or until the skin is golden. Carefully drain the fat and turn over.
Brush the duck with half the chilli mixture and cook for a further 6 minutes or until cooked to rare. Remove from the pan and set aside to rest for 5 minutes.
Place the noodles, snake beans and remaining chilli mixture in a large bowl and toss to combine. Divide the mixture between bowls and top with the duck, basil leaves and fried eschalots to serve. Serves 4.
There are no comments for this entry yet.