bacon and rosemary roasted lamb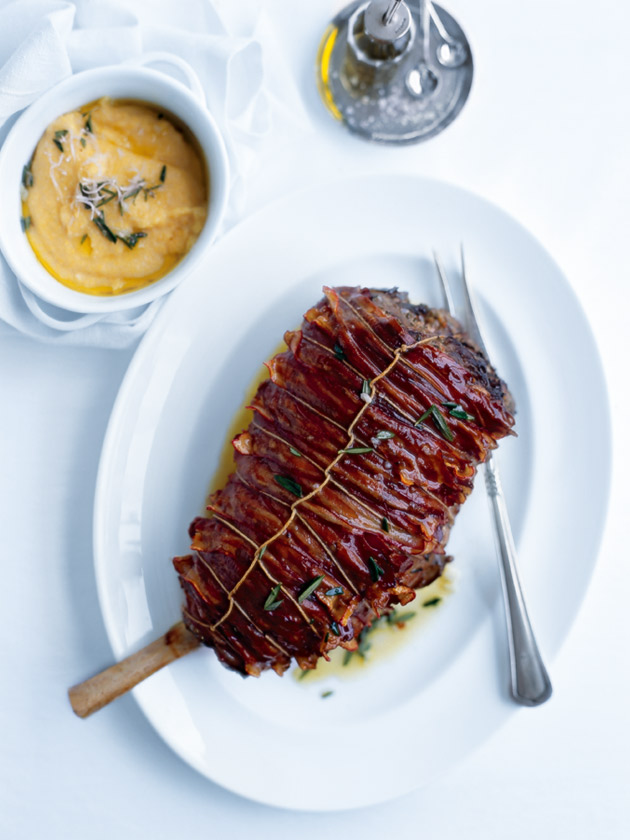 2 tablespoons chopped rosemary leaves

2 cloves garlic, crushed

1 teaspoon sea salt flakes

2 tablespoons olive oil

1 tablespoon lemon juice

1 x 1.3kg easy-carve lamb leg

12 slices streaky bacon+ or pancetta

1.25 litres chicken stock

1 cup (170g) instant polenta

¼ cup (60ml) single (pouring) cream

50g butter

Preheat oven to 200°C (390°F). Place the rosemary, garlic, salt and oil in a bowl and stir to combine. Place 1 tablespoon of the rosemary mixture in the centre of the lamb leg. With a small, sharp knife make shallow slits in the lamb leg and spread the remaining rosemary mixture over, pressing it into the slits.

Wrap the bacon around the lamb and secure with kitchen string. Place the lamb on a wire rack in a baking dish. Add 2 cups (500ml) of stock to the baking dish and roast for 1–1¼ hours for medium or until cooked to your liking.

Place remaining stock in a saucepan over high heat and bring to the boil. Gradually add the polenta, whisking continuously. Cook for 2–5 minutes or until thickened. Stir through the cream and butter. Slice the lamb and serve with the polenta. Serves 4.
+ Streaky bacon is a fatty cut of bacon without the loin attached.

There are no comments for this entry yet.