portuguese-style chicken drumsticks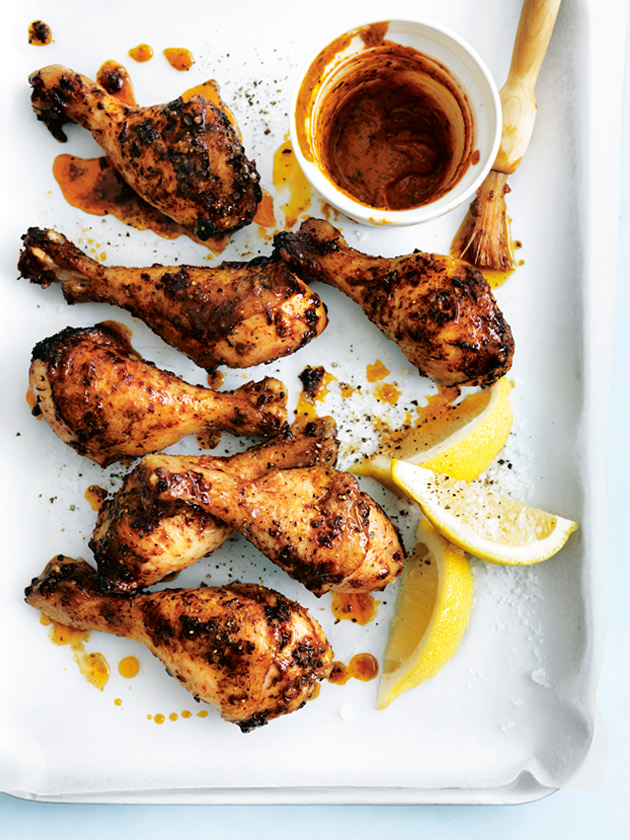 1 tablespoon smoked paprika

1 teaspoon cayenne pepper

1 teaspoon ground cumin

1½ tablespoons dried oregano leaves

¼ cup (60ml) extra virgin olive oil

2 tablespoons red wine vinegar

1 tablespoon brown sugar

sea salt and cracked black pepper

3 cloves garlic, crushed

12 x 120g chicken drumsticks

2 slices white bread, torn

⅓ cup (80ml) water

lemon wedges, to serve

Preheat oven to 250°C (500°F).

Place the smoked paprika, cayenne pepper, cumin and oregano in a large bowl. Add the oil, 1 tablespoon of the vinegar, the sugar, salt and pepper and mix to combine. Reserve and set aside 2 tablespoons of the marinade.

Add the garlic and chicken to the bowl and toss well to coat.

Place the chicken on a large lightly greased baking tray lined with non-stick baking paper and roast for 15–18 minutes or until golden and cooked through.

While the chicken is roasting, place the bread, water, reserved marinade and remaining vinegar in a small food processor and process until combined.

Serve the chicken with the marinade sauce and lemon wedges. Serves 4.

There are no comments for this entry yet.