roast chicken dinner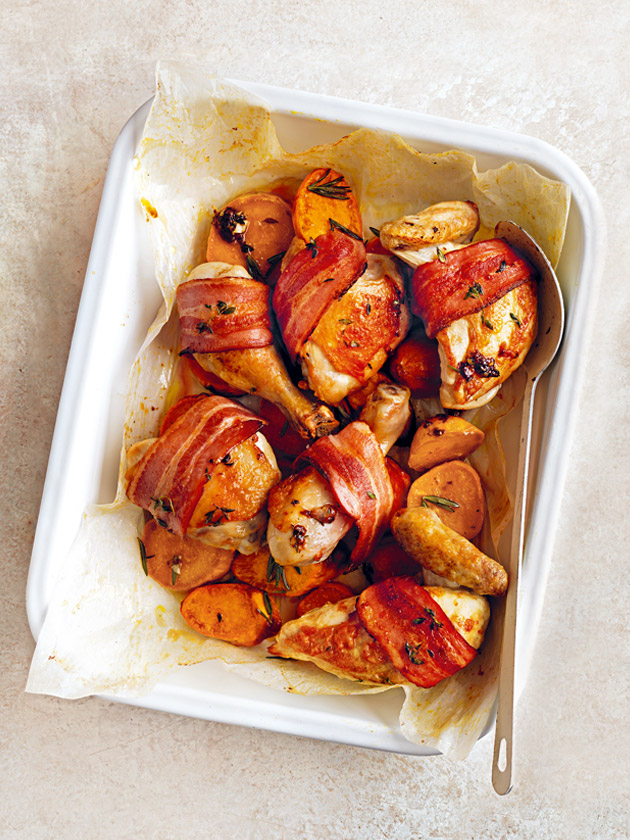 1.8 kg whole chicken, cut into 6 pieces

2 teaspoons thyme leaves

2 teaspoons sea salt flakes, plus extra to taste (for the potatoes)

¼ cup (60ml) extra virgin olive oil

2 sweet potatoes (kumara) (750g), peeled and sliced into 1cm rounds

1 tablespoon rosemary leaves

6 slices (180g) streaky bacon or pancetta
Place the chicken, thyme, salt and 1 tablespoon of the oil in a big bowl and mix, using clean hands, until the chicken is coated. Place in the fridge until ready to use.

Preheat oven to 220°C (425°F). Line a large roasting pan with non-stick baking paper.

Place the sweet potato, rosemary and the remaining oil in the prepared pan. Sprinkle with the extra salt and toss to coat, using tongs. Arrange the potato rounds in an even layer and roast for 15 minutes.

Wrap each chicken piece in 1 slice (30g) streaky bacon or pancetta. Remove the pan from the oven. Using tongs, place the chicken pieces on top of the potato, skin-side up. Carefully return the pan to the oven and roast for another 35 minutes or until the chicken is golden brown and cooked through.

With oven gloves on, remove the pan from the oven. Serve the chicken and sweet potato with a salad or your favourite steamed green vegies (we love broccolini and peas). Serves 4.

TIP: You can swap the cut chicken pieces for 6 x 200g chicken thigh cutlets; 8 x 150g chicken drumsticks or 4 x 250g bone-in chicken breasts.
There are no comments for this entry yet.