crunchy quinoa and thyme tofu chips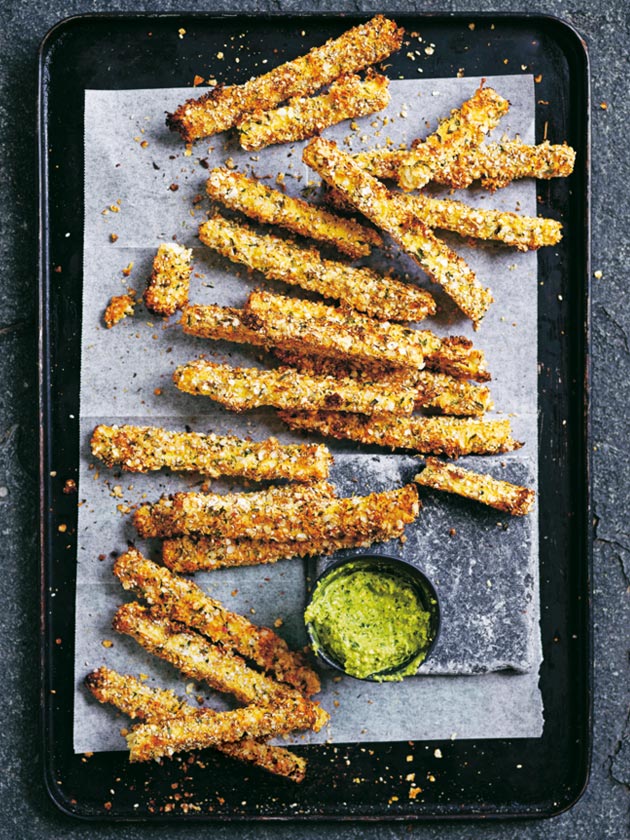 2 eggs

1 clove garlic, crushed

½ cup (50g) quinoa flakes

½ cup (40g) finely grated parmesan

2 tablespoons white chia seeds

3 tablespoons thyme leaves, finely chopped

1 teaspoon finely grated lemon rind

1 teaspoon sea salt flakes

cracked black pepper

300g firm tofu, cut into 0.5cm batons

kale and olive pesto
2 cups (50g) kale leaves

80g pitted green olives

¼ cup (60ml) water

2 teaspoons lemon juice

¼ cup (70g) natural Greek-style (thick) yoghurt

1 long green chilli, deseeded

To make the kale and olive pesto, place the kale in a bowl and cover with boiling water. Drain, place the kale in a small food processor and add the olives, water, lemon juice, yoghurt and chilli. Process until finely chopped. Set aside.

Preheat oven to 240°C (475°F). Place the eggs and garlic in a bowl and lightly whisk to combine. Place the quinoa, parmesan, chia, thyme, lemon rind, salt and pepper in a separate bowl and toss to combine.

Dip each piece of tofu in the egg mixture, then into the quinoa crumb to coat.
Place on a large oven tray lined with non-stick baking paper. Cook for 12 minutes or until golden and crispy. Serve with the kale and olive pesto. Serves 4.

There are no comments for this entry yet.