parsnip, sweet potato and thyme yorkshire puddings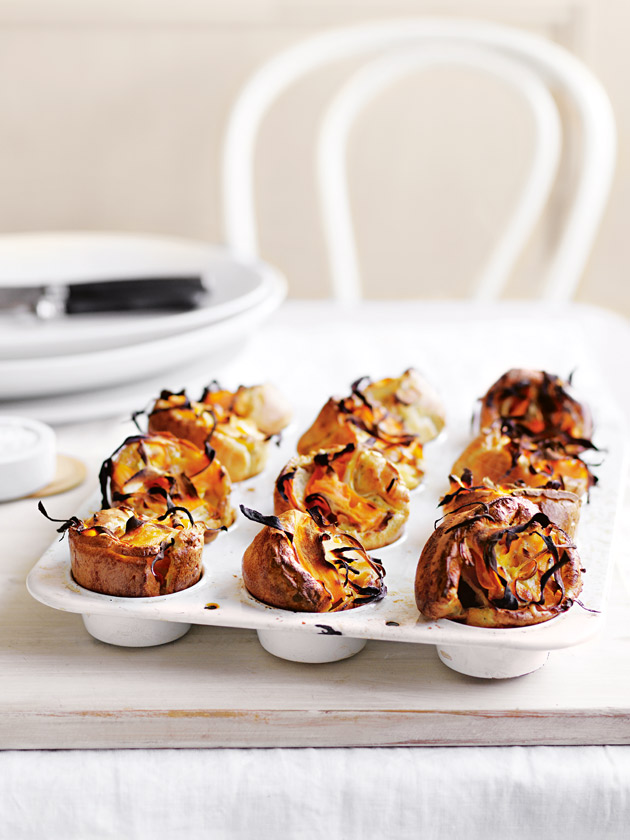 1 cup (150g) plain (all-purpose) flour

4 eggs

2 teaspoons sea salt flakes

1 teaspoon ground black pepper

1⅓ cups (330ml) milk

2 teaspoons thyme leaves

½ cup (60g) shaved parsnip+

1 cup (120g) shaved sweet potato (kumara)+

⅓ cup (80ml) ghee (clarified butter) melted

Preheat oven to 220°C (425°F). Place the flour, eggs, salt, pepper, milk and thyme in a blender and blend until smooth. Set aside for 20 minutes.

Place the shaved parsnip and sweet potato in a small bowl and toss to combine.

Divide the ghee between the holes of a 12 x ½-cup-capacity (125ml) muffin tin. Place the tin in the oven for 12–15 minutes or until the ghee is just smoking.

Remove from the oven and, working quickly, pour ¼ cup of the batter into each hole and top with the parsnip and sweet potato. Cook for 20–25 minutes or until puffed and golden. Makes 12.

+ You will need to buy one parsnip and one sweet potato for this recipe. Use a vegetable peeler or a mandolin to shave off the required amount.
There are no comments for this entry yet.