roasted cauliflower with barley and figs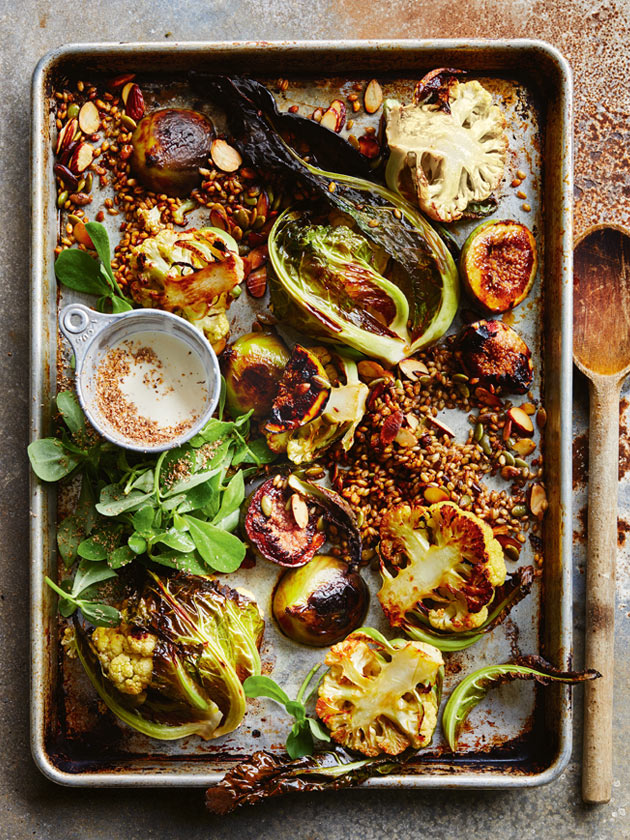 1 cup (200g) pearl barley

⅓ cup (80ml) extra virgin olive oil

4 x 200g baby cauliflowers, halved

1 tablespoon lemon juice

sea salt and cracked black pepper

¼ cup (50g) pepitas (pumpkin seeds)

¼ cup (20g) natural flaked almonds

4 figs, halved

2 cups mache lettuce leaves

freshly grated nutmeg, to serve

tahini buttermilk dressing
2 tablespoons tahini

½ cup (125ml) buttermilk

2 teaspoons lemon juice

Preheat oven to 220°C (425°F). Place the barley in a medium saucepan and cover with cold water. Place over high heat and bring to the boil. Cook for 22–25 minutes, or until tender. Drain well, add half the oil and mix to combine. Set aside.

Place the cauliflower on a large oven tray and drizzle with the lemon juice and remaining olive oil. Sprinkle with salt and pepper, cover with aluminium foil and cook for 20 minutes or until just tender. Remove the foil and cook for a further 10 minutes or until light golden. Add the barley, pepitas, almonds and fig to the tray and cook for a further 12–15 minutes, or until the figs are blistered, and the barley is slightly crunchy.

While the salad is cooking, make the tahini buttermilk dressing. Place the tahini, buttermilk, lemon juice, salt and pepper in a small bowl and whisk to combine. Top the salad with the mache, sprinkle with nutmeg and serve with the tahini buttermilk dressing. Serves 4–6.

There are no comments for this entry yet.