tuna tabouli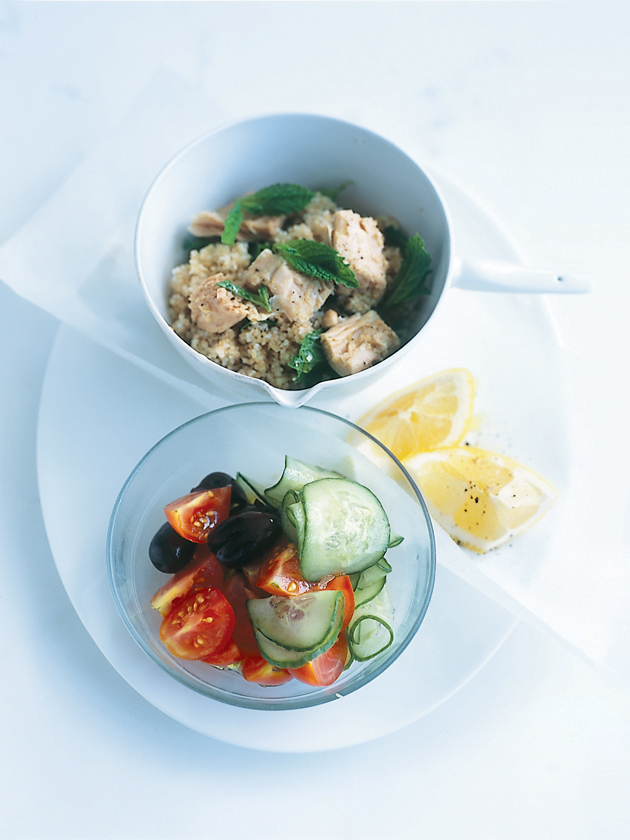 ½ cup fine cracked wheat+
2 x 185 g cans tuna in olive oil, drained
1 Lebanese cucumber, chopped
1 vine-ripened tomato, cut into wedges
¼ cup black olives
¼ cup chopped basil leaves
sea salt and cracked black pepper
2 tablespoons extra-virgin olive oil
1 tablespoon red wine vinegar

Place cracked wheat in a bowl and cover with boiling water. Allow to stand for 10–12 minutes or until tender. Drain well, squeezing out any excess water. Place in a bowl, add tuna and mix to combine.
In a separate bowl combine the cucumber, tomato, olives, basil, salt and pepper and toss to mix. To serve, and drizzle the salad with olive oil and vinegar. You could also serve this with lemon wedges and mint leaves. Serves 2.

+ Cracked wheat, also known as burghul or kibbled wheat, is steamed, dried and crushed wheat. It can be substituted in many grain recipes. We have used fine cracked wheat but you can also buy it coarsely cracked. Available in supermarkets and health food stores.
There are no comments for this entry yet.