roasted potatoes with green beans and speck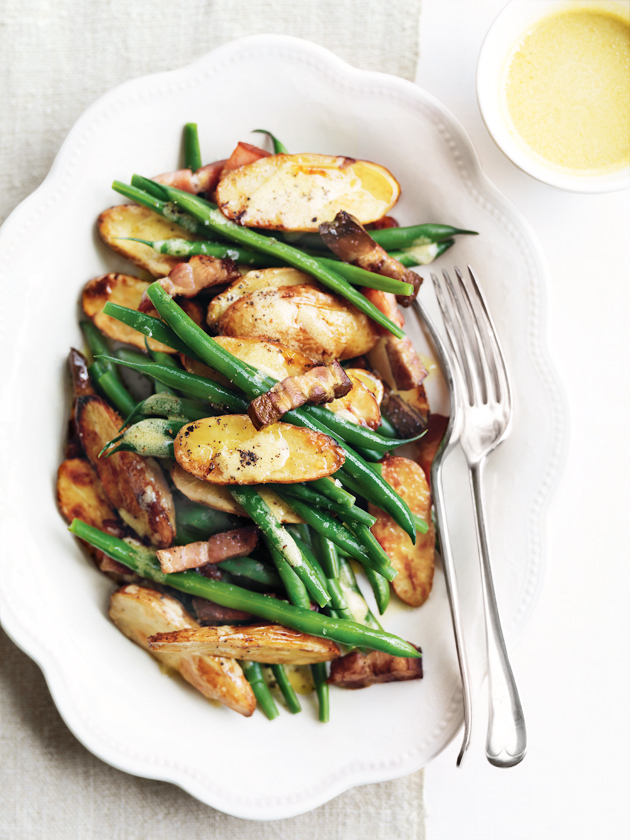 1.5kg kipfler (waxy) potatoes, halved lengthways
300g speck+, chopped
2 tablespoons olive oil
sea salt and crack black pepper
300g green beans, trimmed and blanched
mustard dressing
¼ cup (60ml) olive oil
1 tablespoon white wine vinegar
1 tablespoon lemon juice
1 tablespoon Dijon mustard

Preheat oven to 180ºC (350ºF). To make the mustard dressing, place the oil, vinegar, lemon juice, mustard, salt and pepper in a bowl and whisk until well combined. Set aside. Place the potatoes, speck and oil in a baking dish, sprinkle with salt and toss to coat. Roast for 40 minutes, turning occasionally,or until crisp and golden. Serve roasted potatoes with the green beans and drizzle with mustard dressing. Serves 8.

+ Speck is a slab of cured ham available from delicatessens. If unavailable, you can use bacon or flat pancetta instead.
There are no comments for this entry yet.