cinnamon and candied pecan pavlova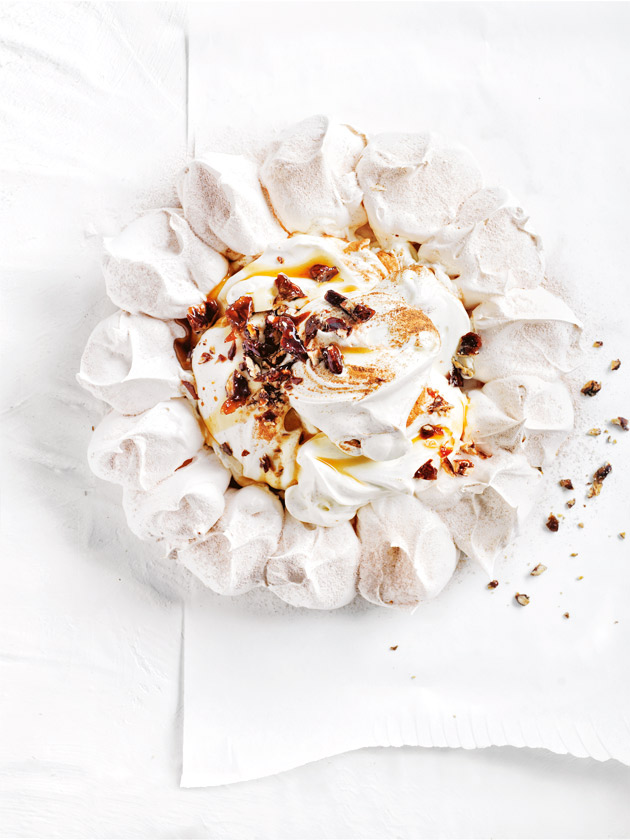 150ml eggwhites (approximately 4 eggs) (see tips, below)

1 cup (220g) caster (superfine) sugar

1 teaspoon white vinegar

1 cup (250ml) single (pouring) cream

1½ cups (360g) crème fraîche

⅓ cup (55g) icing (confectioner's) sugar

1½ teaspoons ground cinnamon

candied pecans
1 cup (120g) pecans, toasted

2 tablespoons caster (superfine) sugar

2 tablespoons brown sugar

2 teaspoons vanilla extract

¼ cup (60ml) whiskey

Preheat oven to 150°C (300°F). Place the eggwhites in the bowl of an electric mixer and whisk on high speed until stiff peaks form. Add the sugar, 1 tablespoon at a time, whisking for 30 seconds before adding more. Once all the sugar has been added, whisk for a further 6 minutes or until stiff and glossy. Scrape down the side of the bowl, add the vinegar and whisk for a further 2 minutes or until glossy and combined. Draw a 26cm circle on a sheet of non-stick baking paper and place on a lightly greased baking tray. Spoon 1 cup of the meringue into the centre of the circle, leaving a 5cm border. Arrange heaped spoonfuls of meringue around the circle to create a ring. Reduce the heat to 120°C (250°F) and bake for 1 hour 30 minutes or until crisp. Turn the oven off and allow the pavlova to cool for 1 hour 30 minutes. Remove from the oven and cool at room temperature.
To make the candied pecans, heat a small saucepan over medium heat. Add the pecans, both sugars, vanilla and whiskey and cook, stirring occasionally in the last minute, for 6–7 minutes or until golden and caramelised. Transfer immediately to a tray lined with non-stick baking paper and spread to cool completely. Roughly chop and set aside.
Place the cream, crème fraîche and ¼ cup (40g) of the icing sugar in a large bowl and whisk until stiff peaks form. Fold through 1 teaspoon of the cinnamon until just combined.
Transfer the pavlova to a cake stand or plate, top the centre with the cream and sprinkle with the pecans. Mix to combine the remaining icing sugar and cinnamon and dust over the pavlova to serve. Serves 8–10.

Tips: Making meringue is a science – be sure to measure your eggwhites carefully, as instructed in the recipe, remembering egg sizes do vary. Be sure to use fresh, room temperature eggs, as this will help the eggwhites to become more voluminous when beaten
.
There are no comments for this entry yet.