gingerbread men wreaths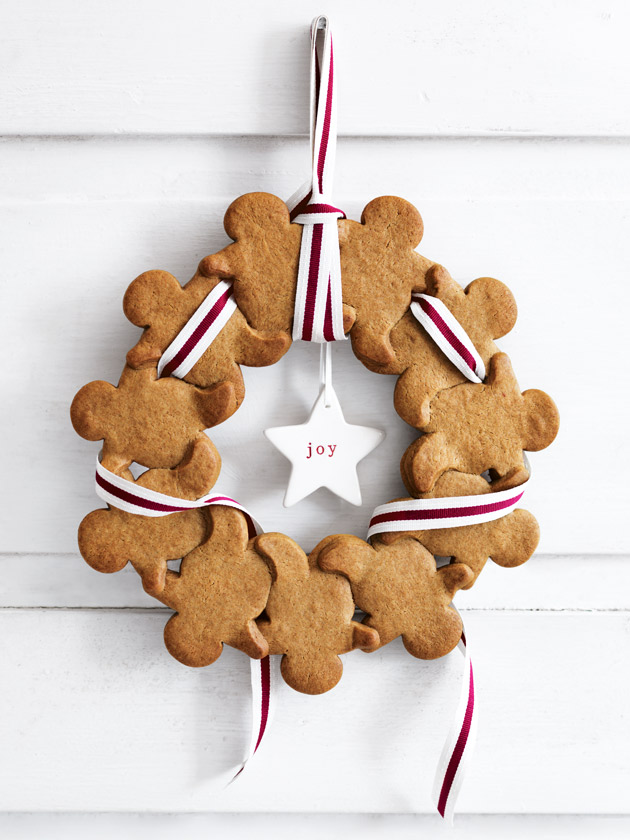 1 x quantity plain gingerbread dough

plain gingerbread dough
125g unsalted butter, chopped and softened

½ cup (90g) brown sugar

⅔ cup (230g) golden syrup

2½ cups (375g) plain (all-purpose) flour, sifted

1 teaspoon bicarbonate of (baking) soda, sifted

2 teaspoons ground ginger

To make the gingerbread dough, place the butter and sugar in the bowl of an electric mixer and beat for 10−12 minutes or until pale and creamy.
Scrape down the sides of the bowl, add the syrup, flour, bicarbonate of soda and ginger and beat until a smooth dough forms. Flatten into a disc, wrap in plastic wrap and refrigerate for 30 minutes.

Preheat oven to 140°C (275°F). Roll out the dough between 2 sheets of non-stick baking paper to 5mm thick. Refrigerate until firm.
Using a 7cm gingerbread man cookie cutter, cut out 22 men from the dough, re-rolling the dough as necessary. Place in 2 rings, with alternate hands and feet overlapping, on 2 baking trays lined with non-stick baking paper. Bake for 30 minutes or until golden and dry to the touch. Allow to cool completely on the trays.
Thread a length of ribbon through the gingerbread men, leaving enough excess to hang the wreaths. Makes 2 wreaths.
Note: Store the gingerbread cookies in an airtight container for up to 1–2 weeks and hang them up on Christmas Eve.
There are no comments for this entry yet.