chocolate caramel brittle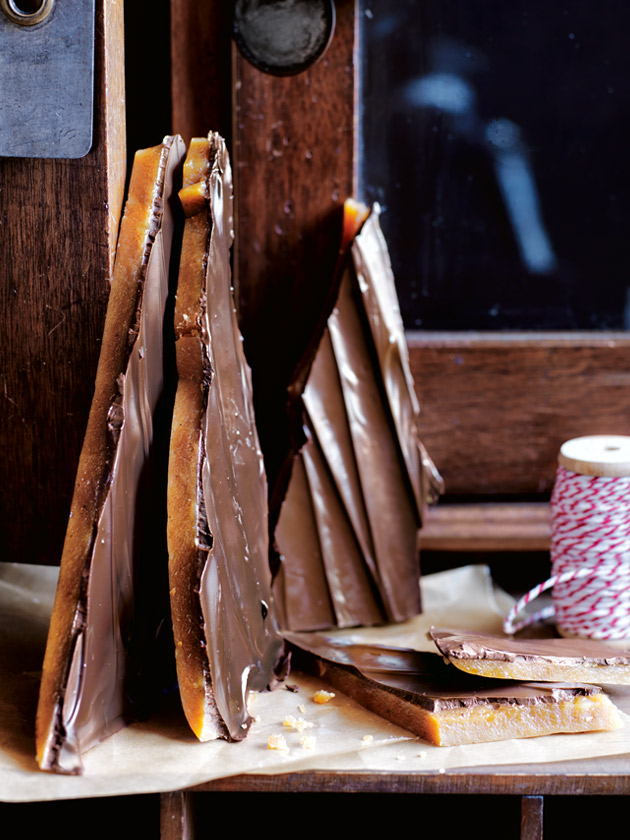 450g unsalted butter, chopped

2 cups (440g) white sugar

2 tablespoons glucose syrup

½ cup (125ml) water

300g dark chocolate, finely chopped

Lightly grease a 24cm x 34cm baking tray and line with non-stick baking paper. Set aside.

Place the butter in a medium saucepan over medium heat and stir until melted. Add the sugar, glucose and water and stir with a metal spoon to combine. Place a sugar thermometer in the saucepan and cook for 22–25 minutes, stirring occasionally when the sugar thermometer reads above 140°C (275°F), until it reaches 152°C (305°F). Working quickly, pour the caramel onto the prepared tray and allow to cool for 5 minutes. Sprinkle the chocolate over the caramel and allow to stand for 2 minutes. Smooth the chocolate using a palette knife and allow to stand at room temperature for 10 minutes. Refrigerate for 40 minutes, or until the chocolate is set. Break into shards to serve. Serves 10–12.
+ Store the brittle in an airtight container for up to 1 week.
There are no comments for this entry yet.