pineapple and chipotle pulled pork sliders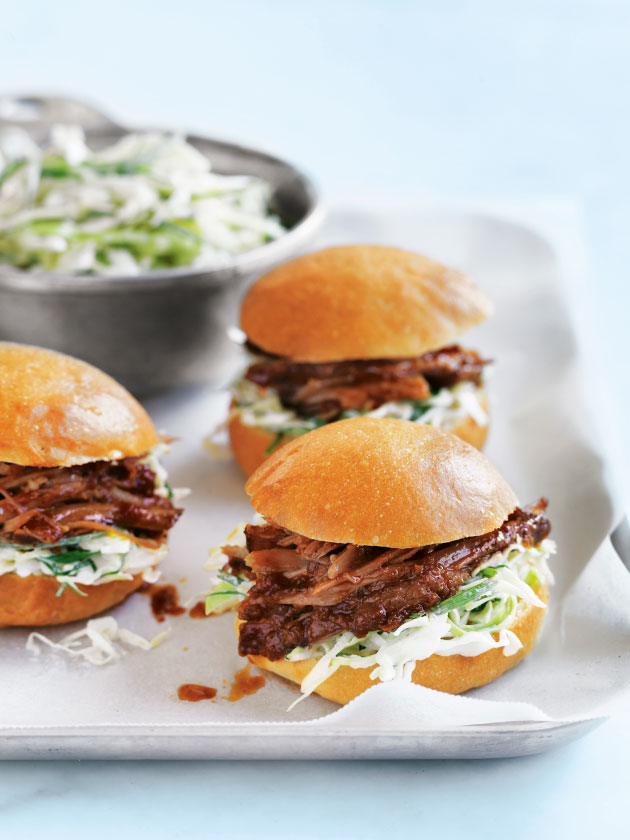 1 small pineapple (900g), peeled and chopped

2 tablespoons extra virgin olive oil

1kg boneless pork shoulder, trimmed

1 onion, finely chopped

2 cups (500ml) unsweetened pineapple juice

⅓ cup (105g) chipotle in adobo sauce

1 cup (250ml) chicken stock

6 fresh bay leaves

4 cups (320g) finely shredded white cabbage

½ cup mint leaves, chopped

2 tablespoons lime juice

½ cup (150g) mayonnaise

20 brioche slider buns

Preheat oven to 180°C (350°F). Place the pineapple a food processor and process until pureed. Set aside. Heat the oil in a large, heavy-based ovenproof saucepan over high heat. Add the pork and cook for 5 minutes each side until browned. Remove and set aside.

Add the onion and cook for 3–4 minutes or until soft. Add the pureed pineapple, pineapple juice, chipotle, stock and bay leaves, and bring to a simmer.

Return the pork to the pan, cover with a lid, place in the oven and cook, turning halfway, for 3 hours or until tender. Shred the pork with 2 forks and keep warm.

To make the slaw, place the cabbage, mint, lime juice and mayonnaise in a medium bowl and mix to combine. To assemble the sliders, halve the buns, top the bases with the slaw and pork, and sandwich together with the remaining halves to serve. Makes 20.

There are no comments for this entry yet.