steamed salmon and lemongrass pilaf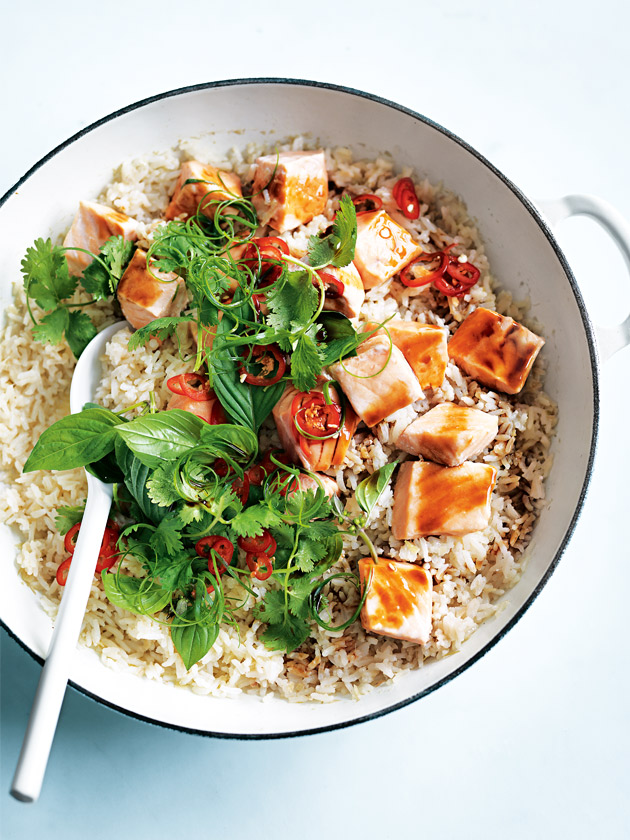 1 stalk lemongrass, white part only, sliced

7cm piece ginger, peeled and chopped

2 cloves garlic

2 tablespoons extra virgin olive oil

sea salt flakes

1½ cups (300g) long grain rice

3 cups (750ml) chicken stock

4 x 200g skinless salmon fillets, cut into 3cm pieces

1 cup coriander leaves

1 cup Thai basil leaves

2 green onions, thinly sliced

1 long red chilli, thinly sliced

soy sauce, to serve

Place the lemongrass, ginger and garlic in a small food processor and process until finely chopped. Heat the oil in a large heavy-based saucepan over medium heat.
Add the lemongrass mixture and salt and cook, stirring, for 4 minutes. Add the rice and stir to combine. Add the stock and bring to the boil.
Cover with a tight-fitting lid and reduce the heat to low. Cook for 12 minutes. Place the salmon, in a single layer, on top of the rice mixture, cover and remove the pan from the heat. Allow to stand for 4 minutes.
Top the pilaf with coriander, basil, green onion, chilli and soy sauce to serve. Serves 4.
There are no comments for this entry yet.