sweet potato and tahini hummus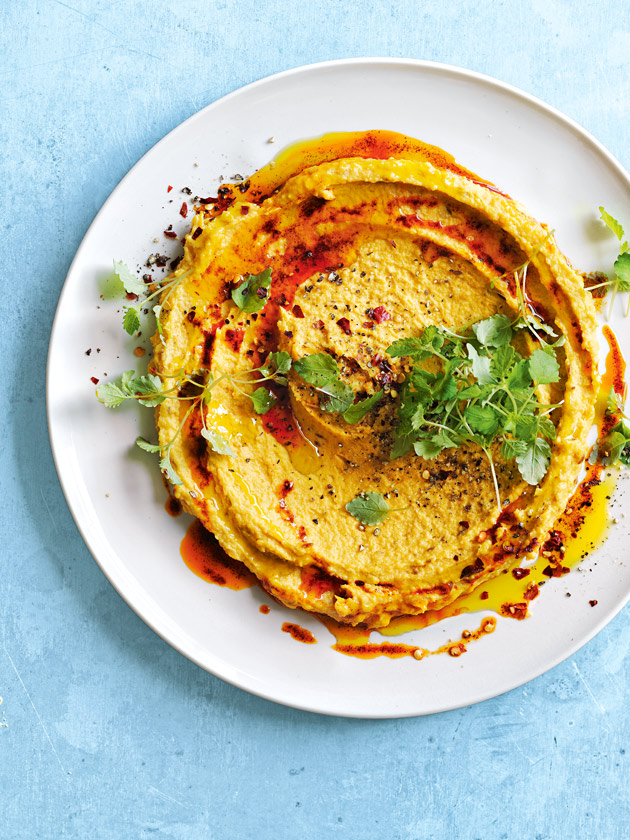 400g sweet potato (kumara), peeled and grated

2 cloves garlic, crushed

1 teaspoon cumin seeds

⅓ cup (80ml) extra virgin olive oil

400g can chickpeas (garbanzos), rinsed and drained

¼ cup (70g) tahini

¼ cup (60ml) lemon juice

¼ cup (60ml) water

sea salt and cracked black pepper

½ teaspoon smoked paprika, plus extra to serve
chilli flakes, to serve
micro (baby) lemon balm leaves, to serve

Preheat oven to 240°C (475°F). Place the sweet potato, garlic, cumin and 1 tablespoon of the oil on a large oven tray and toss to combine.

Cover with aluminium foil and cook for 10–15 minutes or until softened. Place the mixture in a food processor and add the chickpeas, tahini, 2 further tablespoons of the oil, lemon juice, water, salt and pepper and process until smooth.
Place the remaining oil and paprika in a small bowl and mix to combine. Spoon the dip onto a serving plate. Top with chilli flakes, paprika oil, extra paprika and lemon balm to serve. Serves 6.

There are no comments for this entry yet.