banana bread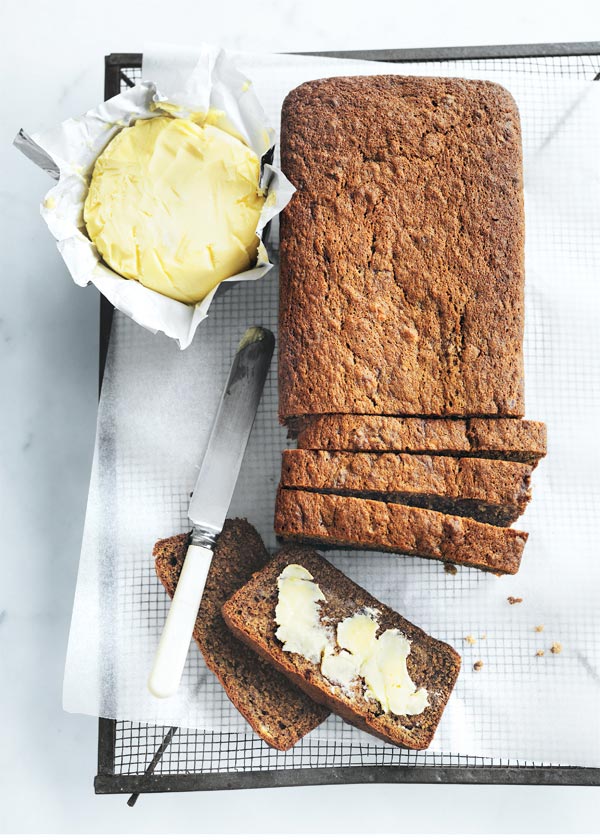 125g butter, softened

1 cup (175g) brown sugar
1 teaspoon vanilla extract
2 eggs
2 cups mashed banana
1¾ cups (255g) plain (all-purpose) flour, sifted
1 teaspoon baking powder, sifted
1 teaspoon bicarbonate of (baking) soda
1 teaspoon ground cinnamon
⅓ cup (115g) golden syrup
butter, extra, to serve

Preheat oven to 160°C (325°F). Place the butter, sugar and vanilla in an electric mixer and beat for 8–10 minutes or until pale and creamy. Scrape down the sides of the bowl.

Gradually add the eggs and beat well to combine. Add the banana, flour, baking powder, bicarbonate of soda, cinnamon and golden syrup and stir to combine.
Spoon the mixture into a 26cm x 11cm (2.5 litre-capacity) lightly greased loaf tin lined with baking paper. Bake for 60–65 minutes or until cooked when tested with a skewer.

Cool in the tin for 20 minutes before turning out onto a wire rack to cool completely. Slice and serve with the extra butter. Serves 6–8.

Molly Duncan
So easy and absolutely delicious. Thank you for a great recipe.
Kat Gourley
Awesome recipe! Made it for one who doesn't like banana's that much and it has gone in her school lunch each day since I've made it!
L Gibs
I have a family of banana bread lovers and went away from usual recipe yesterday to try this one and it was an absolute hit! I am making it again today! Love the dense bread texture and the flavours.
Lisa Smith
I made this yesterday. Best banana bread moist delicious and so easy to cook. Thanks for the recipe will use this one again