christmas cake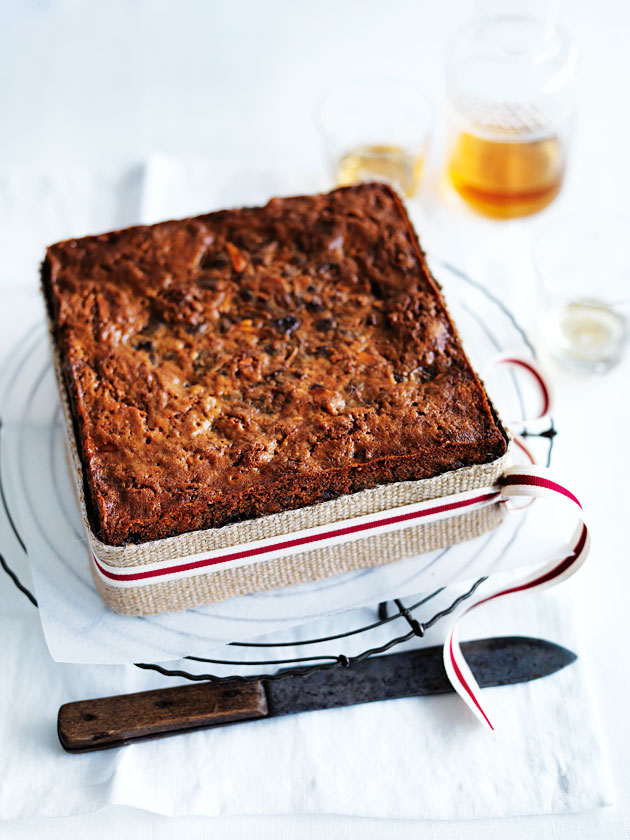 3 cups (450g) raisins
1½ cups (240g) sultanas
½ cup (95g) chopped dried figs
1 cup (140g) slivered almonds
1 cup (140g) chopped dates
1 cup (170g) grated Granny Smith (green) apple
1¼ cups (310ml) Pedro Ximénez sherry
300g unsalted butter, softened
1¼ cups (220g) brown sugar
2 vanilla beans, split and seeds scraped
4 eggs
2½ cups (375g) plain (all-purpose) flour, sifted
¼ teaspoon bicarbonate of (baking) soda, sifted
1½ teaspoons ground cinnamon
1 teaspoon ground allspice
¼ cup (60ml) Pedro Ximénez sherry, extra

Place the raisins, sultanas, figs, almonds, dates, apple and sherry in a bowl and stir to combine. Cover and allow to soak in a cool, dark place for 24 hours, stirring occasionally. Preheat oven to 140°C (275°F).
Place the butter, sugar and vanilla seeds in the bowl of an electric mixer and beat for 8 minutes or until light and creamy. Gradually add the eggs, beating well after each addition.
Place the soaked fruit, flour, bicarbonate of soda, cinnamon and allspice in a large bowl and mix well, ensuring the fruit is evenly coated with flour. Add the butter mixture and stir until well combined. Line a 20cm-square greased cake tin with two layers of non-stick baking paper. Spoon in the mixture and smooth the top. Bake for 2 hours 25 minutes – 2 hours 35 minutes or until cooked when tested with a skewer.
Spoon over the extra sherry while the cake is still warm. Allow to cool in the tin. Serves 12.

+ You can make this cake up to four weeks in advance. Wrap the cooled cake firmly in plastic wrap and store in the refrigerator. Bring it to room temperature to serve.
Philippa Godinho
I have been making this cake for three years now and have also passed the recipe on to my sister. I make 1.5 times the quantity so that I have a cake to give to my daughter as well. We all absolutely agree that this is the best Christmas Cake we've ever had! I'm going to prepare my fruits this weekend and soak in the PX sherry for a couple of weeks! Yum!!!