classic baked cheesecake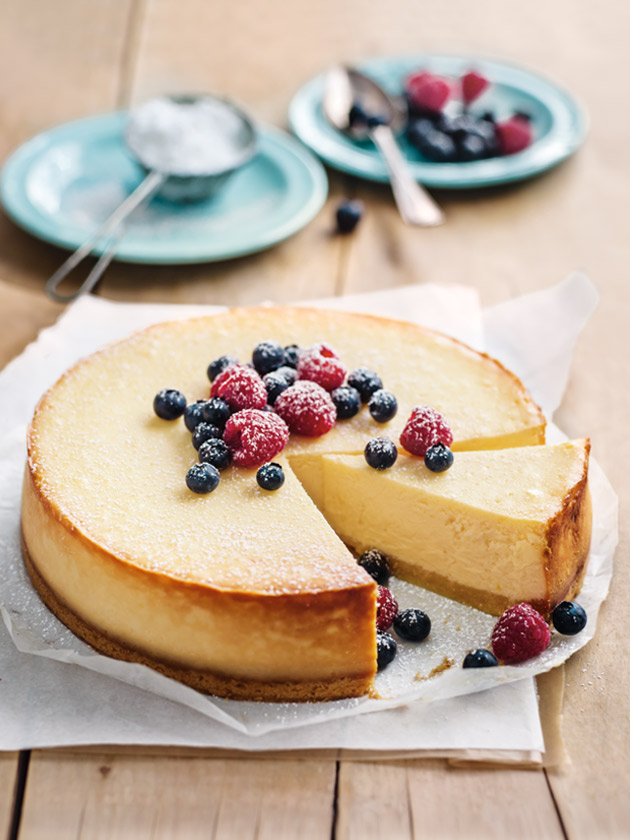 1 cup (150g) plain (all-purpose) flour

¼ cup (55g) caster (superfine) sugar

100g unsalted butter, chopped

filling
1⅓ cups (295g) caster (superfine) sugar

330g cream cheese, chopped softened

½ teaspoon vanilla extract

¼ cup (60ml) lemon juice

2 tablespoons finely grated lemon rind

500g fresh ricotta

5 eggs

1½ tablespoons cornflour (cornstarch)

1½ tablespoons water
mixed berries, to serve
icing (confectioner's) sugar, for dusting

Preheat oven to 150°C (300°F). Place the flour, sugar and butter in the bowl of a food processor and process for one minute or until a rough dough forms. Using the back of a spoon, press the mixture into the base of a lightly greased 20cm round springform tin lined with non-stick baking paper.

Bake the base for 25 minutes or until golden and just cooked. Set aside. To make the filling, place the sugar, cream cheese, vanilla, lemon juice, lemon rind, ricotta and eggs in a food processor and process until smooth.

Place the cornflour and water in bowl and mix until smooth. Add the cornflour mixture to the cream cheese mixture and mix to combine. Pour the mixture over the cooked base, tap gently to remove any air bubbles and bake for 40 minutes or until light golden and just set.

Turn the oven off and allow to cool for 40 minutes in the oven with the door closed. Refrigerate for 1 hour or until cold. Top with berries and dust in icing sugar to serve. Serves 8–10.

Jane Walton
Donna I have always loved baked cheese cakes but never made one. Bingo with your recipe, I made it for Easter along with your Raspberry Coconut Ice, the crowd went crazy for both, Thanks , Your are on my go to list of Chefs for sure, Jane
donna hay team
Hello Ariane, you reason you may have lumps in your mixture is if the cream cheese was not soft enough (particularly if it has come straight out of the fridge). Many thanks, DH team.
Ariane Kyras
I have made this cheesecake before and it turned out perfect. I made it again last night and the mixture was lumpy and I could not get rid of the lumps. Could it be because the ricotta wasn't fresh enough? Thank you.
Hanisah Tucker
I followed the recipe to the T and it worked perfectly! Just the right about of zest and so deliciously creamy. Thank you for the recipe!
donna hay team
Hi Allan, no sorry - because of the cheese the texture will change on defrosting and be grainy. Happy cooking!
Alice Jäger
I just baked it. It took much longer, but it was worth waiting
. It's really delicious and the kids love it.
Michelle Melissa Foo
I just made this cake last week and it was a hit! The base however I find is too high. I might consider changing it to a digestive biscuit base with butter. It took me longer than 40mins to bake the cake at 150C. With 150C, took nearly an hour for the cake to be set.
Rochelle Badolato
Could you make these as little individual ones in muffin trays? Also could you freeze them?