coffee and brown sugar tray cake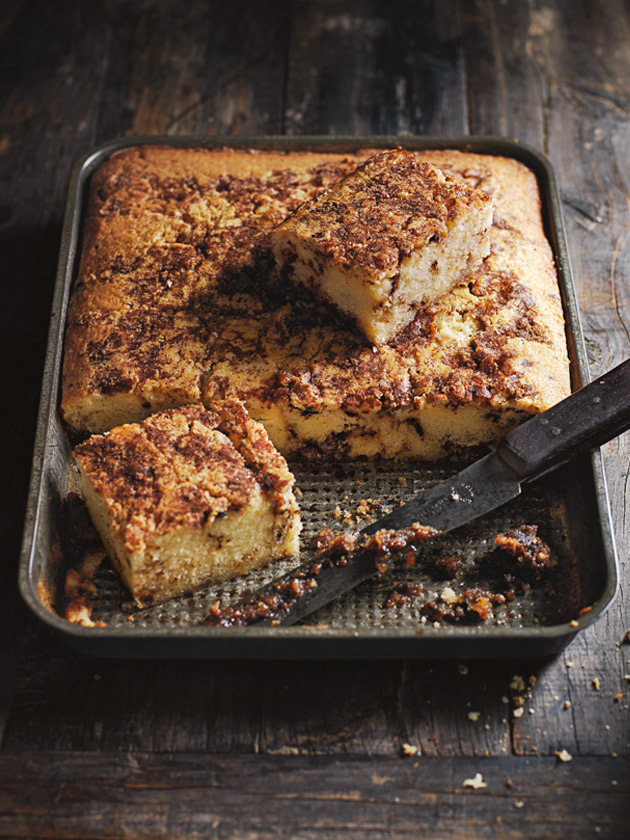 1 cup (175g) dark brown sugar

2 teaspoons ground cinnamon

2½ cups (375g) self-raising flour, sifted

1½ cups (330g) caster sugar

4 eggs

1½ cups (275ml) milk

250g unsalted butter, melted

2 teaspoons vanilla extract

1 tablespoon instant coffee granules

60g unsalted butter, extra, melted

Preheat oven to 160°C. Place the brown sugar and cinnamon in a small bowl and mix to combine. Set aside.

Place the flour, sugar, eggs, milk, butter and vanilla in a large bowl and whisk until smooth. Pour half the mixture into a lightly greased 20cm x 30cm metal slice tin lined with non-stick baking paper. Sprinkle the coffee and half the brown sugar mixture over the cake. Pour over the remaining cake mixture and spread evenly. Sprinkle with the remaining brown sugar mixture and spoon over extra melted butter.

Cook for 50–55 minutes or until cooked when tested with a skewer and slice to serve. Serves 8–10.

chris connolly
first made this cake when published in Sunday herald sun and now every time a make a cake they all request this cake. Thanks Donna for recipe