flourless date and walnut cake
with butterscotch toffee icing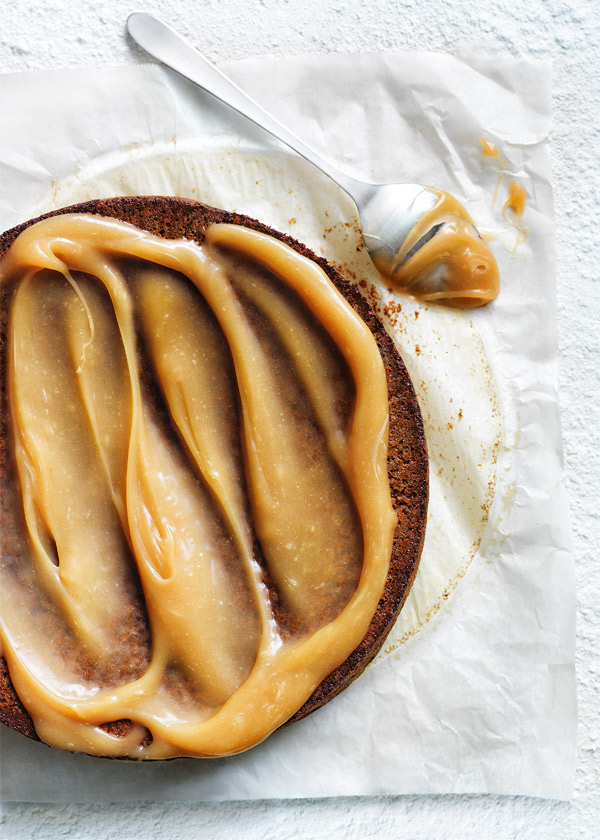 200g fresh dates, pitted and roughly chopped

½ teaspoon bicarbonate of (baking) soda

¼ cup (60ml) boiling water

¼ cup (60ml) butterscotch-flavoured schnapps

6 eggs, separated

¾ cup (135g) brown sugar

2 tablespoons finely grated orange rind

4½ cups (490g) walnut meal (ground walnuts) (see tip)

butterscotch toffee icing
1 cup (220g) caster (superfine) sugar

¼ cup (60ml) water

80g unsalted butter, chopped

¼ cup (60ml) single (pouring) cream

2 tablespoons butterscotch-flavoured schnapps

Preheat oven to 160°C (325°F). Line the base and sides of a lightly greased 24cm springform tin with non-stick baking paper and set aside. Place the dates, bicarbonate of soda, water and schnapps in a bowl and mash with a fork until just combined. Transfer to a small food processor and process until well combined.
Place the egg yolks, ¼ cup (45g) sugar and orange rind in an electric mixer and whisk for 6–8 minutes or until thick and pale. Fold through the date mixture and the walnut meal and place in a large bowl.
Place the eggwhites in a separate bowl and, using a hand-held electric mixer, whisk until stiff peaks form. Gradually add the remaining sugar to the eggwhites and whisk until thickened. Fold the eggwhites through the walnut mixture in 2 batches. Pour into the tin and bake for 1 hour 10 minutes– 1 hour 20 minutes or until an inserted skewer comes out with a few crumbs attached. Allow to cool completely in the tin.
To make the icing, place the sugar and water in a small saucepan over medium heat and stir until just combined. Place a sugar (candy) thermometer in the saucepan and increase heat to high. Bring to the boil and cook, without stirring, for 7–8 minutes or until temperature reaches 160°C (325°F). Remove from the heat and carefully stir through the butter, cream and schnapps. Return to the heat and stir until the mixture is smooth and combined. Allow to cool completely at room temperature. Invert the cake onto a plate and spread with the icing to serve. Serves 8–10.
tip: If you can't find walnut meal, it's easy to make your own – process walnuts in a food processor until a fine meal forms.

There are no comments for this entry yet.