date doughnuts with spiced sugar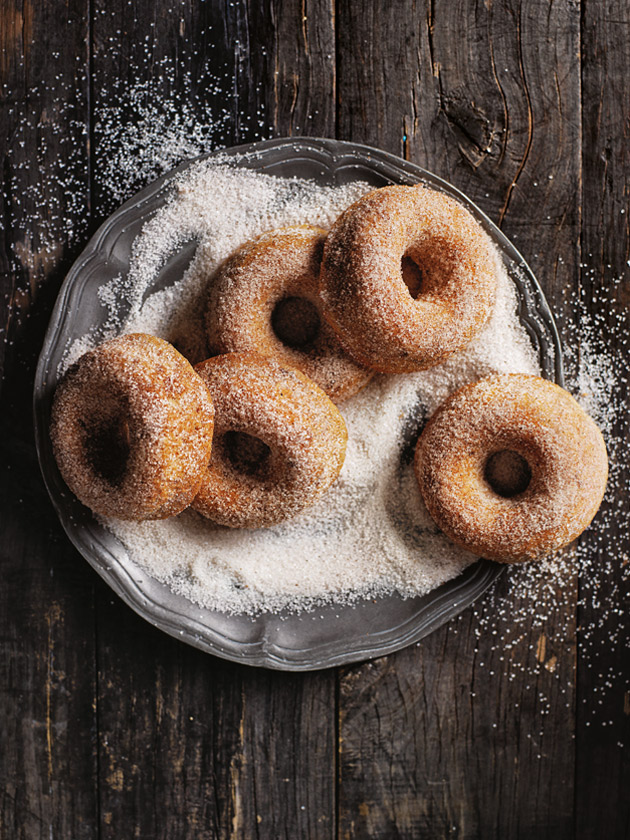 1 cup (180g) fresh dates, pitted and chopped

¼ cup (60ml) boiling water

1¼ cups (185g) self-raising flour, sifted

¾ cup (165g) caster sugar

2 eggs

¾ cup (180ml) milk

125g unsalted butter, melted

1 teaspoon vanilla extract

spiced sugar
½ cup (110g) white sugar

½ teaspoon ground cinnamon

¼ teaspoon ground nutmeg

Preheat oven to 160°C. Place the dates and water in a small bowl and allow to stand for 5 minutes or until softened. Using a fork, mash the dates until smooth.

Place the flour, sugar, eggs, milk, butter, vanilla and date mixture in a large bowl and whisk until smooth. Spoon half the mixture into a well-greased 6 x ⅓-cup-capacity (80ml) doughnut pan. Cook for 12–14 minutes or until golden brown and cooked when tested with a skewer.

Turn out doughnuts onto a wire rack to cool. Repeat with remaining batter to make 12 doughnuts.

To make the spiced sugar, place the sugar, cinnamon and nutmeg in a large bowl and mix to combine. Toss the doughnuts in the spiced sugar to serve. Makes 12.

There are no comments for this entry yet.