food processor carrot cake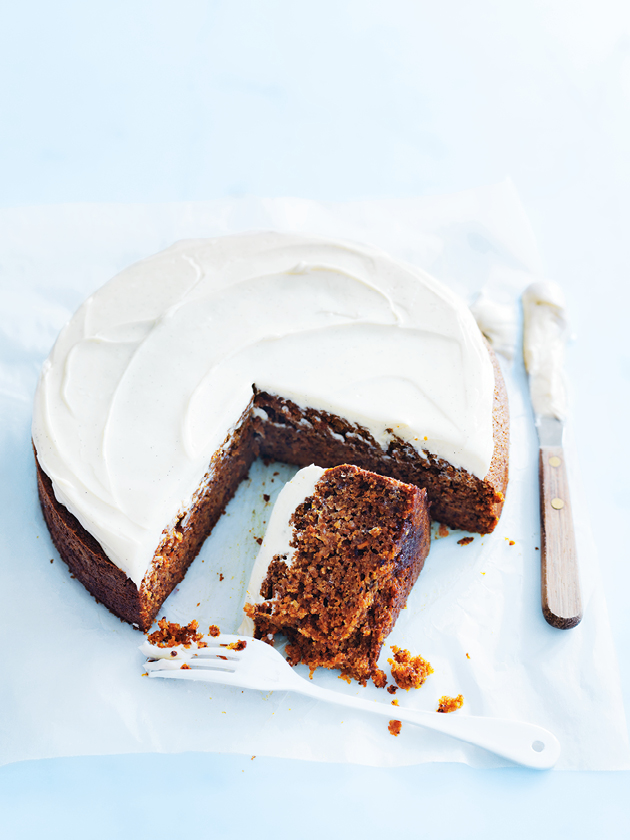 400g carrots, peeled and roughly chopped

1 cup (120g) pecans

1 cup (175g) brown sugar

½ cup (110g) caster (superfine) sugar

1½ cups (225g) plain (all-purpose) flour

1 teaspoon baking powder

1 teaspoon bicarbonate of (baking) soda

2 teaspoons ground cinnamon

½ cup (125ml) vegetable oil

¼ cup (70g) natural Greek-style (thick) yoghurt

2 eggs

2 teaspoons vanilla bean paste

cream cheese frosting
250g cream cheese, chopped and softened

¼ cup (50g) fresh ricotta

⅓ cup (55g) icing (confectioner's) sugar

1 tablespoon lemon juice

1 teaspoon vanilla bean paste

Preheat oven to 160°C (325°F). Place the carrot and pecans in a food processor and process until finely chopped. Add the flour, bicarbonate of soda, baking powder, brown sugar, caster sugar, cinnamon, vanilla, oil, eggs and yoghurt, and process, scraping down the bowl until combined.

Pour the mixture into a 22cm round springform cake tin lined with non-stick baking paper and bake for 55–60 minutes or until just cooked when tested with a skewer. Allow to cool in the tin.

To make the cream cheese frosting, place the cream cheese, lemon juice, ricotta, sugar and vanilla in a food processor and process until smooth. Spread the frosting over the cooled cake to serve. Serves 10–12.

Betty Penna
I have made this cake 2 times now and it is fantastic. Easy, tasty and looks great. It looked just like the picture and got the kids tick of approval. (always a good sign!)
penny speight
I was making this cake and after reading the comments I decided to follow the recipe precisely, disregarding anything negative. It was a huge success with the family and it will be my go to recipe from now on. Thank you for a delightful and easy recipe. P.S.
Biliana Gicevski
This cake turned out just like your video on facebook and it was so easy to make in the blender. It was delicious and the cream cheese frosting was my favourite. I used walnuts in place of pecan. The only thing I found was that 2 tsp of cinnamon powder was too overpowering. Next time I will reduce the amount. Tx DH.
donna hay team
This cake should be moist and quite dense but it's possible it was overworked. When you add the remaining ingredients to the food processor you should process until the mixture just comes together to make sure you don't over work the cake batter. Also, we use fan-forced ovens when baking to ensure a regular and even heat. The DH team
Glenn Hubbert
Made this today ..and it came out like a carrot mud cake ?
RELATED VIDEO