lemon yoghurt cake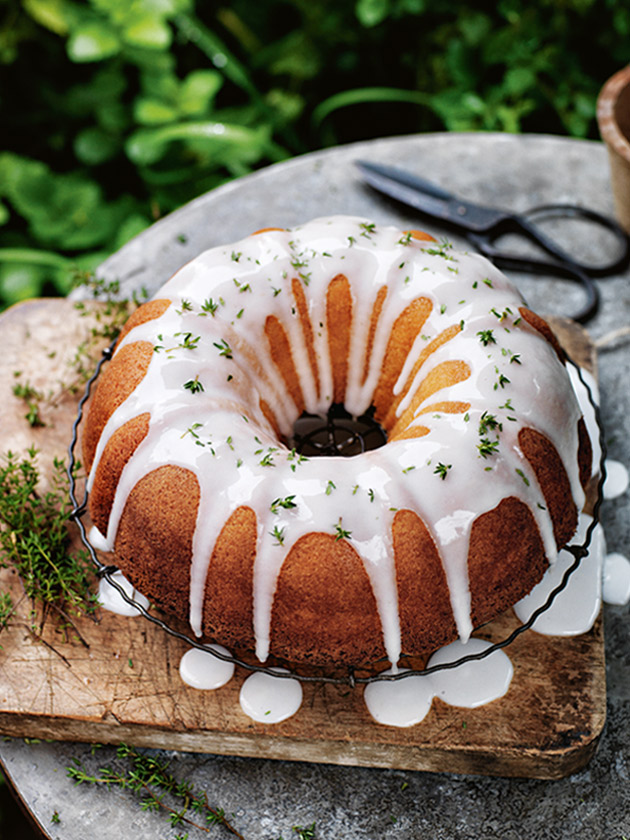 ¾ cup (180ml) vegetable oil

2 eggs

1 tablespoon finely grated lemon rind

¼ cup (60ml) lemon juice

1 cup (280g) plain Greek-style (thick) yoghurt, or goat's milk yoghurt

1¾ cups (385g) caster (superfine) sugar

2 cups (300g) self raising (self-rising) flour

2 tablespoons thyme leaves

lemon icing
1 cup (160g) icing (confectioner's) sugar, sifted

1 tablespoon lemon juice

½ tablespoon boiling water

Preheat oven to 160ºC (325ºF). Place the oil, eggs, lemon rind, lemon juice, yoghurt and sugar in a large bowl and whisk to combine. Sift over the flour and stir until smooth.
Pour into a well greased 24cm non-stick Bundt tin and bake for 50–55 minutes or until a skewer inserted comes out clean. Allow the cake to stand in the tin for 5 minutes.
To make the lemon icing, mix to combine the sugar, lemon juice and boiling water.
Carefully turn the cake out onto a cake stand and spoon over the icing while the cake is still hot. Sprinkle with thyme leaves and allow to set for 10 minutes before serving. Serves 10–12.

donna hay team
Hi Harriet! Unfortunately this is a cake best made and baked on the day. The yoghurt and lemon react with raising agents to create the moist texture in the cake. Happy cooking!
Harriet Kaye
Could you make the cake batter the day in advance and keep in fridge until you are ready to bake it?
Jeff Davidson
The nicest cake I've ever tasted!
Tanya Fitzgerald
OMG! This cake is so good. It turned out super moist and fluffy. I didn't add the thyme to the recipe and I finished off the cake with lemon zest on the icing to give the cake a stronger lemon flavour.
E Adams
Help! I tried to make this cake but it turned out rubbery and tough. What have I done wrong? Would like to get this recipe right….
Prita Sharma
I use this recipe (minus the thyme leaves) for every time I have to make a cake. Its amazing, moist, spongey, tasty and beautiful. I cannot bake, I stuff up every baking recipe and the end product is horrific. But this cake always turns out! Love it.
Jonathan Choong
Looks to me like the recipe has forgotten to add the thyme leaves in to the batter? There's 2Tbsp in the cake recipe itself which doesn't seem to be used, I'm guessing that's supposed to be stirred in with the flour, and then there perhaps should be fresh thyme leaves as extra, for the icing. Or at least, that's how I interpret the cake, and boy did it taste good :D
donna hay team
Hi Johanna, we haven't tested the recipe using a gluten free substitute - however you could try following the recipe swapping regular self raising flour with a gluten free version. Let us know how it goes! The DH team
Johanna Anning
I love this recipe but would like to make it with self raising gluten free flour? Would you tell me how to adjust the measurements please?
donna hay team
Hi Rosa, we are so thrilled that you are loving the cake. But yes, the problem could be your tin. If your tin isn't 100% clean or has a few scratches you may find that your cake will stick. We always wash our bundt tins by hand with a non abrasive cloth. You can also try inverting your cake and letting it cool in the tin on a wire rack. The steam should help loosen the cake. The DH team x
ro pet
I so need help, i have been making donna's lemon yoghurt cake for some time. When i bake the cake at 160 fan force it needs an extra 5 or 7 minutes. When I try and upend the cake the bottom sticks and it breaks in the middle. I have done the spray, then tried to use buttering the tin which is a non stick but still having trouble. WHAT AM I DOING WRONG PLEASE HELP. The school has asked me to make one for the fete and i am not confident anymore. Can it be the tin? URGENT rosa
Jill Christian
Baked this tonight and oh, it just so, so, soft, moist and addictive. I skipped the thyme and baked in few mini loaf pans, and I just have to stop myself from munching it…
Melissa Joseph
Lovely cake and forgiving recipe. Looking for a recipe to occupy my toddler on a rainy weekend… Only had 3/4cup passion fruit Greek yoghurt so topped up with toddler (pouch) vanilla yoghurt, cut the sugar back to a cup and toddler threw thyme In the mix… Aside from these variations the cake turned out perfectly. I only baked it for 40mins as my tin was slightly larger. Absolutely beautiful
Priyanka Suryawanshi
This cake turned out amazing. I only added a few drops of rose water and some frozen mixed berries as my own twist.
Very moist and delicious