miso-glazed doughnuts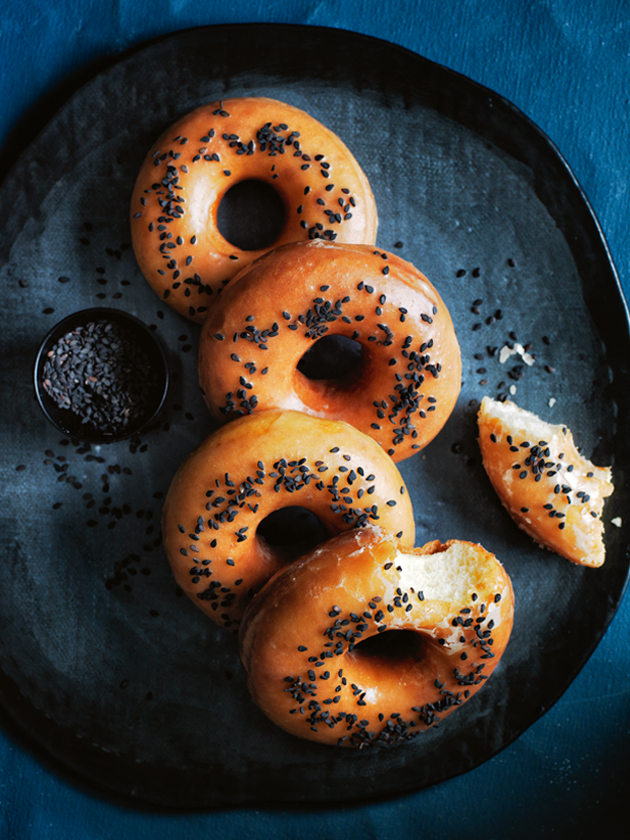 ¾ cup (180ml) milk, lukewarm

3 teaspoons dry yeast

¼ cup (55g) caster (superfine) sugar

2 cups (300g) plain (all-purpose) flour, plus extra for dusting

2 egg yolks
25g unsalted butter, softened

vegetable oil, for deep-frying

1 tablespoon black sesame seeds

miso glaze
2 cups (320g) icing (confectioner's) sugar, sifted

30g unsalted butter, melted

¼ cup (60ml) boiling water

1 tablespoon white miso paste

Place the milk, yeast and 1 tablespoon of the caster sugar in a small bowl and mix to combine. Set aside in a warm place for 5–10 minutes or until the surface is foamy.
Place the remaining sugar, the flour, egg yolks, butter and the yeast mixture in the bowl of an electric mixer with a dough hook attached. Beat on low speed for 4–5 minutes or until the dough is smooth and elastic. Place in a lightly greased bowl, cover with a clean damp tea towel and set aside in a warm place for 45 minutes or until the dough has doubled in size.
Turn out the dough onto a lightly floured surface and knead for 5 minutes or until smooth and elastic. Roll out to 1cm thick. Using an 8cm-round cutter, cut 8 rounds from the dough. Using a 3cm-round cutter, cut holes from the centre of each round (see tip, below). Place the doughnuts on a large baking tray lined with non-stick baking paper. Cover loosely with plastic wrap and set aside in a warm place for 30 minutes or until doubled in size.
To make the miso glaze, place the sugar, butter, water and miso in a medium bowl and whisk to combine. Fill a large, deep saucepan half-full with the oil and place over medium heat until the temperature reaches 180°C (350°F) on a deep-frying thermometer. Cook the doughnuts, in batches, for 30 seconds each side or until golden brown. Drain on paper towel. While the doughnuts are still hot, carefully dip each side in the miso glaze.
Working quickly, sprinkle with the sesame seeds and place on a wire rack to set before serving. Makes 8.

Tip: You can also deep-fry the 'holes' of the doughnuts to make mini doughnut balls. Although you prepare them in exactly the same way as the large doughnuts, note that they will cook more quickly. You will only need to deep-fry them for about 20 seconds each side.
There are no comments for this entry yet.