honey custard meringue tarts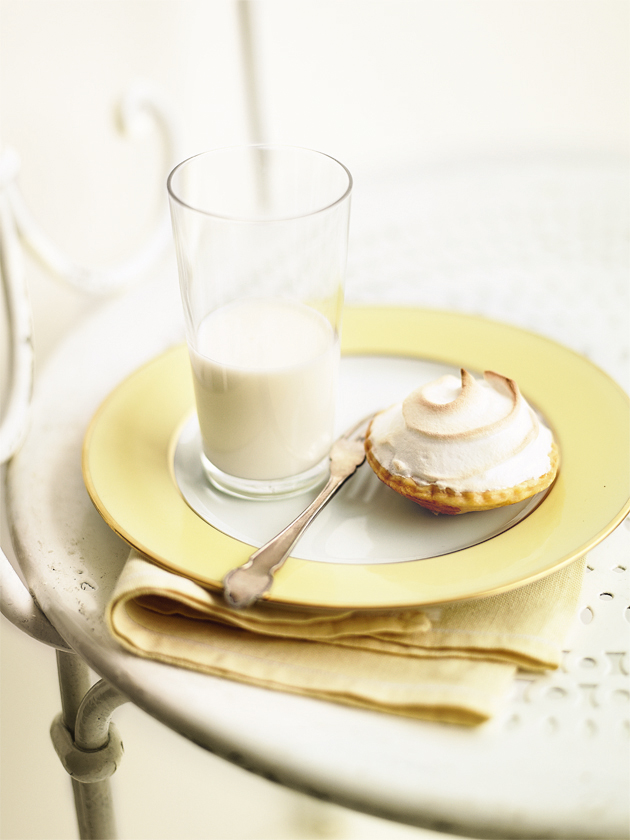 1 sheet store-bought shortcrust pastry, thawed

2 tablespoons milk

2 tablespoons single (pouring) cream

1 egg

1 egg yolk, extra

2 tablespoons honey

1 teaspoon vanilla extract

meringue
2 eggwhites

½ cup (110g) caster (superfine) sugar

½ teaspoon white vinegar

Preheat oven to 180ºC (350ºF). Using a 6½cm round cutter, cut 12 rounds from the pastry. Line a 12-hole 20ml-capacity lightly greased patty tin with the pastry. Line the pastry shells with non-stick baking paper, fill with baking weights and blind bake for 10 minutes or until the pastry is golden. Allow to cool.
Place the milk and cream in a small saucepan over low heat and cook until mixture just comes to the boil. Remove from the heat immediately.
Place the egg, extra egg yolk, honey and vanilla in a bowl and whisk to combine. Gradually add the milk mixture and whisk until well combined. Strain the mixture and gently pour into the cooled tart shells. Reduce the temperature to 150ºC (300ºF) and bake for 10–15 minutes or until set. Allow to cool completely.
To make the meringue, place the eggwhites in the bowl of an electric mixer and beat until stiff peaks form. Gradually add the sugar and vinegar and beat until the mixture is thick and glossy. Place the meringue mixture into a piping bag with a 5mm plain nozzle and pipe onto the tarts. Place the tarts under a preheated hot grill (broiler) for 1 minute or until just golden. Makes 12.

There are no comments for this entry yet.