self-saucing chocolate puddings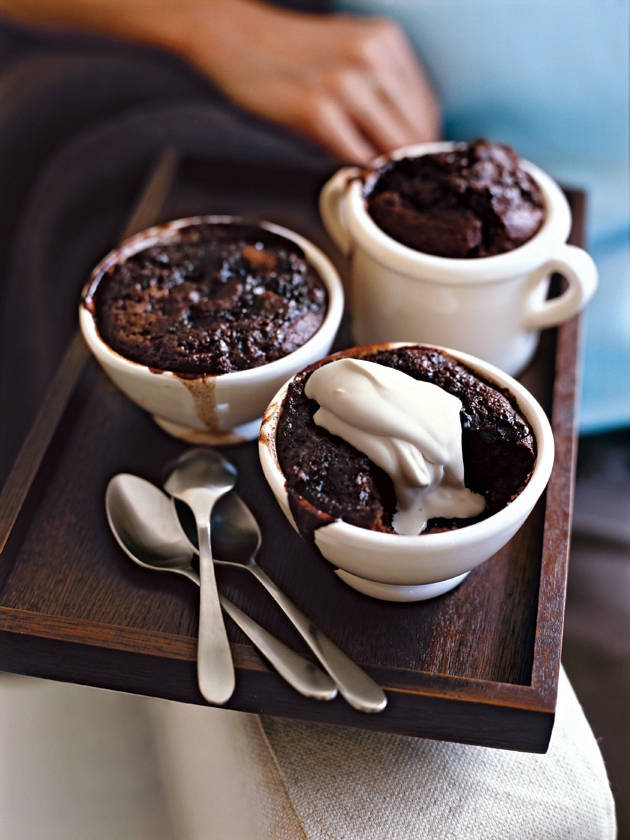 ½ cup (75g) plain flour
1 ½ tablespoon hazelnut meal
¼ cup (45g) brown sugar
1 ½ teaspoon baking powder
3 ½ tablespoons cocoa powder, sifted
½ cup (125ml) milk
35g butter, melted
1 egg, lightly beaten
1 teaspoon vanilla extract
½ cup (90g) brown sugar, extra
1 cup (250ml) boiling water

Preheat oven to 180°C (355°F). Sift the flour, hazelnut meal, sugar, baking powder and 2 tablespoons of cocoa into a bowl. Add the milk, butter, egg and vanilla and mix well to combine.
Spoon into 4 x 1 cup-capacity (250ml) oven-proof dishes and place on a baking tray.
Place the extra sugar and remaining cocoa in a bowl and mix to combine. Sprinkle over the puddings and pour over the water. Bake for 12–15 minutes or until the tops are firm.

Marissa McArthur
This is a favourite recipe of ours. I often play around with it, experimenting with different nut meals or using a liqueur such as frangelico instead of the vanilla. It's always delicious and we recently discovered they even work well reheated from the fridge.
Suzie Wise
Super easy and really yummy!!!!