chicken and coconut rice paper rolls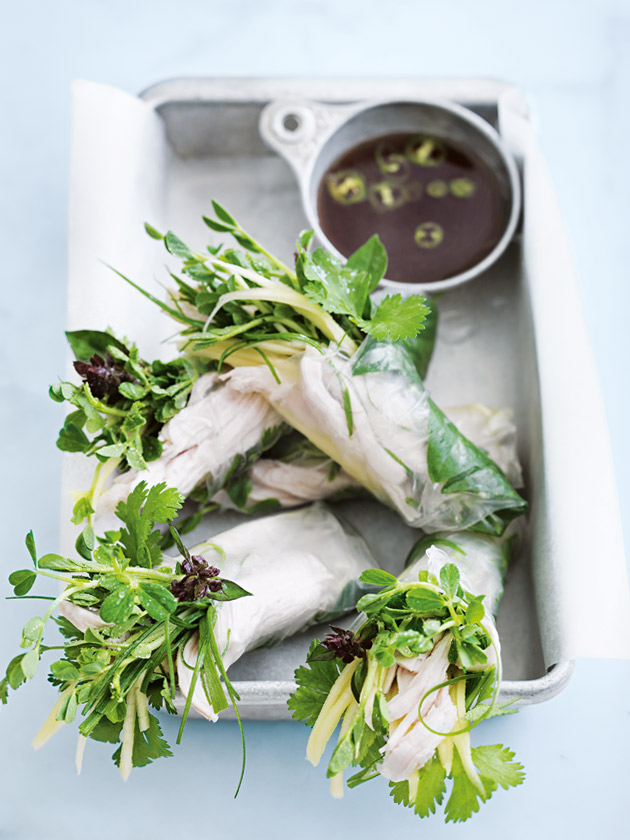 400ml can coconut milk

2 cups (500ml) water

2 stalks lemongrass, bruised and halved

8 kaffir lime leaves

1 teaspoon sea salt flakes

2 chicken breasts (300g)

20 small rice paper rounds

1 cup Thai basil leaves

1 cup coriander sprigs

1 green mango, peeled and finely shredded

150g snow pea shoots

3 green onions, thinly sliced

dipping sauce
2 tablespoons fish sauce

2 tablespoons brown sugar

2 tablespoons lime juice

1 long green chilli, thinly sliced

Place the coconut milk, water, lemongrass, lime leaves, salt and chicken in a medium frying pan over medium heat and bring to a simmer. Reduce heat to low and cook for 20 minutes or until the chicken is cooked through. Remove the chicken, cover and refrigerate until cool.

Shred the chicken using 2 forks. To make the dipping sauce, place the fish sauce, sugar, lime juice and chilli in a bowl and mix to combine.

To assemble the rolls, dip 1 rice paper round in a bowl of cold water for 10 seconds to soften slightly. Place on a clean, damp tea towel and place a little of the basil, coriander, chicken, mango, snow pea shoots and onion down the centre of the sheet.

Fold in one end and roll up tightly to enclose the filling. Repeat with the remaining ingredients. Serve immediately with the dipping sauce. Makes 20.

There are no comments for this entry yet.