lemon and raspberry three-milk cake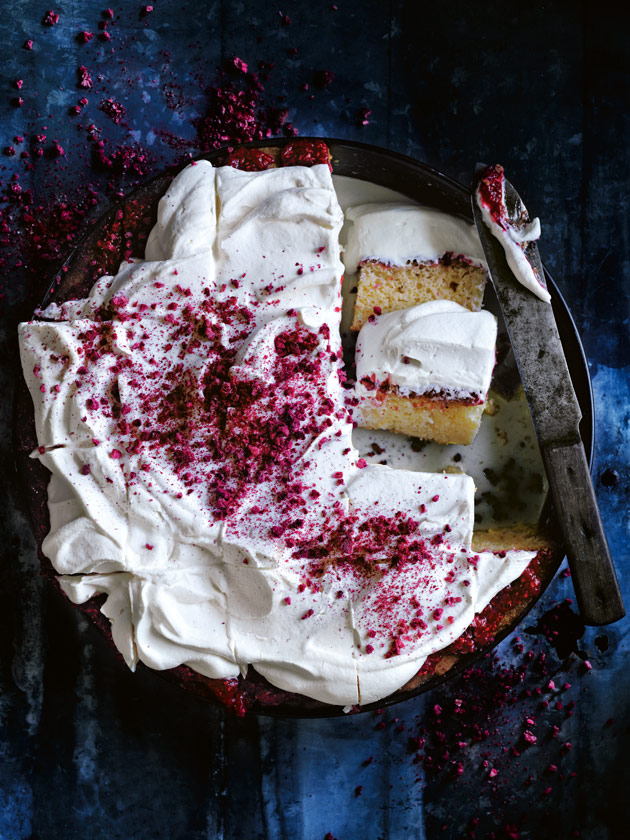 270g unsalted butter, chopped and softened

1½ cups (330g) caster (superfine) sugar, plus ¼ cup (55g), extra

2 tablespoons vanilla extract

2 tablespoons finely grated lemon rind

7 eggs

2¼ cups (330g) self-raising (self-rising) flour

3 cups (750ml) milk

395g can sweetened condensed milk

1 cup (250ml) buttermilk

375g raspberries

2½ cups (625ml) single (pouring) cream, whisked to soft peaks

freeze-dried raspberries, crushed, to serve

Preheat oven to 160°C (325°F). Place the butter and sugar in the bowl of an electric mixer and beat for 8–10 minutes or until pale and creamy.

Add 1 tablespoon of the vanilla and lemon rind and beat to combine. Gradually add the eggs, one at a time, beating well after each addition.

Gradually add the flour and beat until just combined. Spoon the mixture into a lightly greased 30cm (3-litre-capacity) round cake tin and bake for 45 minutes or until cooked when tested with a skewer.

Using the skewer, make holes all over the top of the cake and refrigerate to cool completely.

While the cake is cooling, place the milk, condensed milk, buttermilk and remaining vanilla in a jug and mix well to combine.
Pour the milk mixture over the cake and refrigerate for a further 2 hours or until the mixture is absorbed.

Place the raspberries and extra sugar in a large non-stick frying pan over high heat. Cook for 6–8 minutes or until thickened. Set aside to cool completely.

Top the cake with the raspberries, cream and freeze-dried raspberries to serve. Serves 8–10.

donna hay team
Hi Adrienne, it is best to serve it in the pan as there will be some excess milk at the bottom of the dish. However if you would like to serve it on a plate, choose one with a lip to avoid spills. We would suggest you turn the cake out before adding the layer of cream and raspberries on top. The dh team
Adrienne Robinson
This may be a dumb question - at what point do you remove the cake from the pan or do you serve it in the pan as shown in the photograph?