afternoon tea slice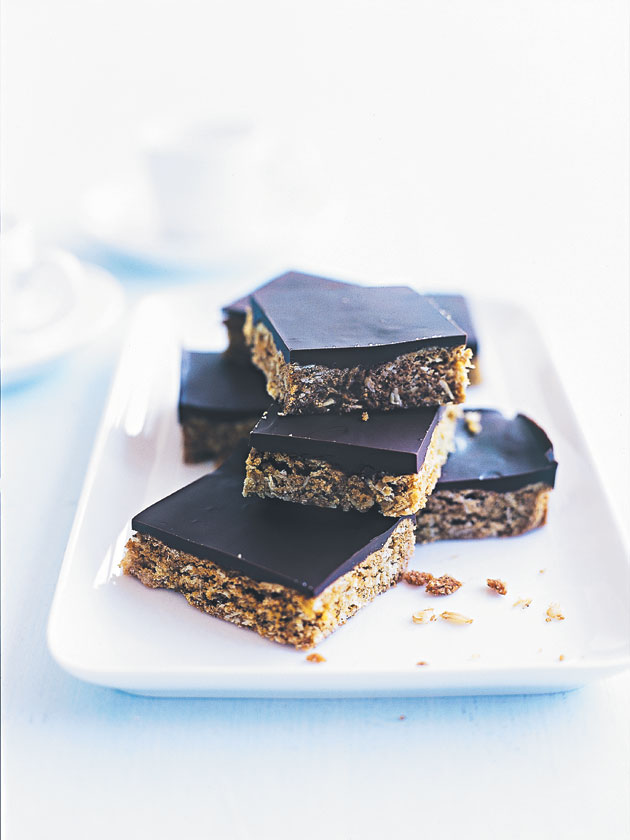 1 cup (100g) rolled oats
1 cup (150g) plain (all-purpose) flour

½ cup (110g) caster (superfine) sugar
¾ cup (60g) desiccated coconut

2 tablespoons golden syrup

125g unsalted butter

½ teaspoon bicarbonate of (baking) soda

1 tablespoon hot water

300g dark chocolate, melted+
Preheat oven to 160°C (325°F).
Combine the oats, flour, sugar and coconut in a bowl.
Place the golden syrup and butter in a saucepan over low heat and cook until melted. Mix the bicarbonate of soda with the water, add to the golden syrup mixture and stir to combine. Add to the oat mixture and mix well.
Press the mixture into a lightly greased 20cm x 30cm tin lined with non-stick baking paper. Bake for 20 minutes or until golden. Allow slice to cool in tin.
Pour over the melted chocolate and refrigerate until set. Serves 8.
+ To melt the chocolate, place it
 in 
a 
heatproof 
bowl 
placed
 over 
a 
saucepan
 of
 simmering 
water. Stir 
until 
melted 
and 
smooth.
donna hay team
Hi T, we recommend to mix the bicarb with the water prior to adding it to the mixture to make sure it is all dissolved first. Hope that helps!
T Cave
Why does the recipe want to activate the bi-carb soda before we start baking the slice?
Janet Burne
The slices are so delicious and a big hit in our house! I also mixed up the recipe and added chopped mixed nuts - pistachios, cashews, macadamias and almonds. I took out half the flour and oats to do this. I often include rice bubbles too. Yummo!!!
D D
Mmmmmmmmm so good, I was thinking about Anzac cookies dipped in chocolate when I remembered these bad bois. I have to make these again!
Leanne Emmerton
I make this but with half a cup of each the ingredients mentioned and add - Half cup each of sunflower kernels, sesame seeds, crushed nuts, rice bubbles. It's called muesli slice and it's yum. All my friends love it.
Leisa Ferguson
Great slice. Very quick and easy. Kids enjoy it as much as i do.
Katrina Mensah
So good! A huge hit with each of my four kids and also satisfies my chocolate cravings!
Amanda Janotka
So delicious!! Everyone raves about it
donna hay team
Hi Shashini, the recipe calls for unsalted butter but you can swap with salted if you prefer. We have not tested the recipe with milk chocolate melts but if they are your preferred choice feel free to swap them with dark chocolate. The DH team
Shashini Subasinghe
Can I substitute Salted butter to unsalted? and can I use the milk chocolate melts? Thanks!