chicken and pesto baked meatballs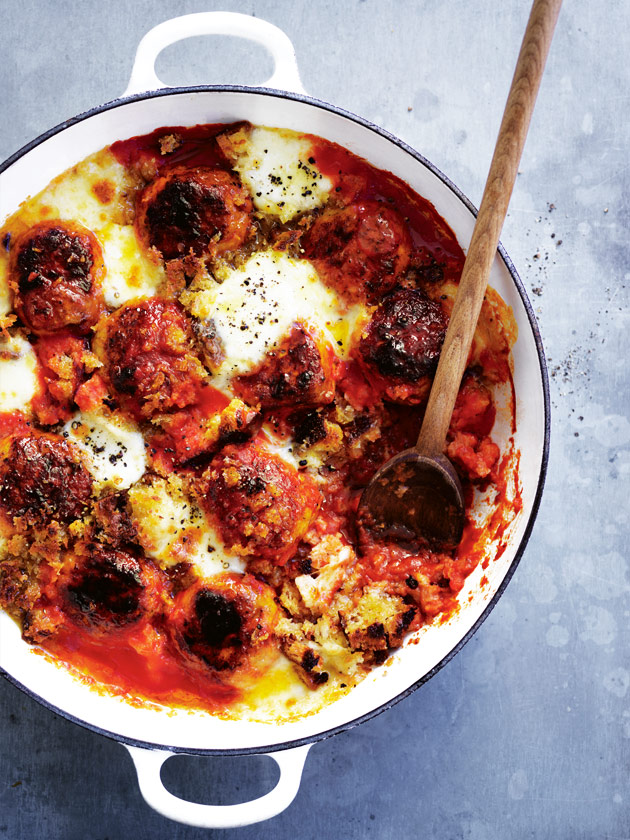 2½ cups (175g) fresh sourdough breadcrumbs

¼ cup (60ml) milk

600g chicken mince

½ cup (40g) finely grated parmesan

2 tablespoons basil pesto

½ teaspoon sea salt flakes

½ teaspoon cracked black pepper

1 tablespoon extra virgin olive oil

2½ cups (625ml) tomato puree (passata)

2 cloves garlic, crushed

1 teaspoon caster sugar

200g bocconcini, torn

Preheat oven to 240°C. Heat a large, heavy-based ovenproof saucepan in the oven for 15 minutes.

While the pan is heating, place 1½ cups (105g) of the breadcrumbs and the milk in a large bowl. Mix to combine and set aside for 5 minutes to soak.

Add the mince, parmesan, pesto, salt and pepper, and mix well to combine. Shape ¼-cups of the mixture into balls.

Carefully remove the pan from the oven. Add the oil and meatballs, return to the oven and cook for 10 minutes or until golden brown.

Add the tomato puree, garlic and sugar and top with the bocconcini and remaining breadcrumbs. Cook for a further 10 minutes or until golden and the sauce has reduced. Sprinkle with pepper to serve. Serves 4.
TIPS:

+ The meatballs can be made in advance and frozen raw. Thaw completely before cooking.
+ The baked meatballs can be served with pasta, if you like.
+ You can swap the mince in these recipes for any of your favourite sausages. Just remove the meat from the casings before using.
There are no comments for this entry yet.
RELATED VIDEO